#FaShow90sBox is my story and my journey through urban fashion.  I went from being a kid that just wanted to dress like his grandfather to being a kid what wanted to dress like his favorite rapper.  Because my grandparents were so rigid with money; the allure of the clothes the cool kids wore only intensified. The memory of what you "wanted" can be just as vivid as the memories of the stuff you had. 
  
So I decided to add my collection of vintage and retro clothes with me and my wife's childhood photos to create a photo essay of this journey. 
  
Enjoy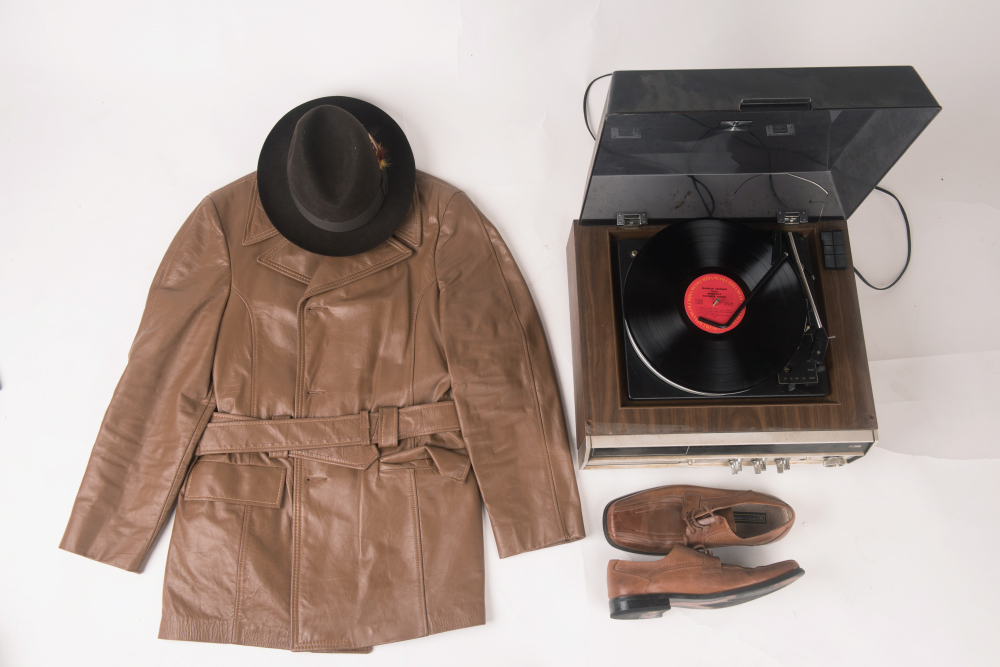 1. The 70s Brown Leather Coat.  This was my first memory of my grandfather having a piece a clothing that I wanted.  He would wear a coat like this to church, his Mason meetings, or out on dates with my grandmother.  Every now and then I would go in the closet and try it on.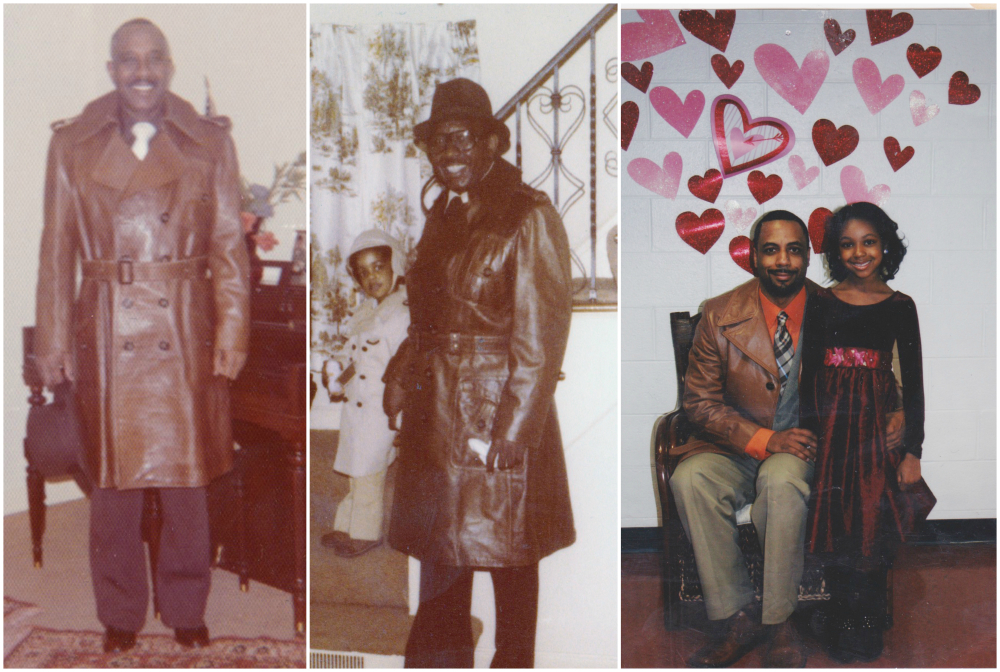 2.   2 years ago I finally found one on Ebay for about 70 bucks.  My 8 year-old says I look good! lol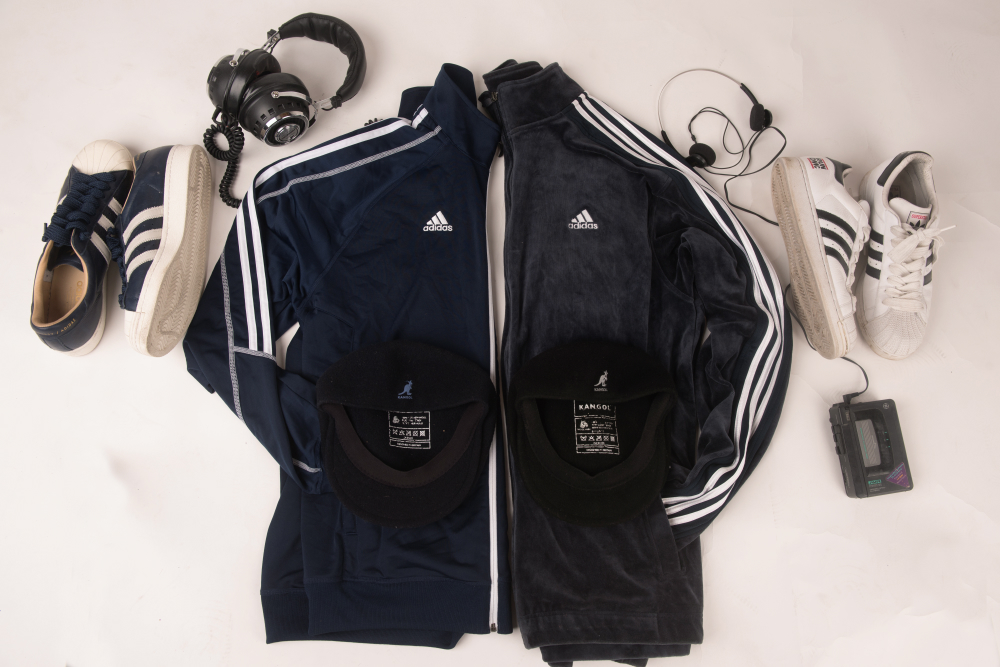 3.The first brand I ever desired was Adidas.  This mostly came from Run Dmc's classic hit "My Adidas".  I was 10 years-old when it dropped and that was probably the year hip-hop started to influence me.  The velour tracksuits, Kangols, and shelltoes were such a classic look.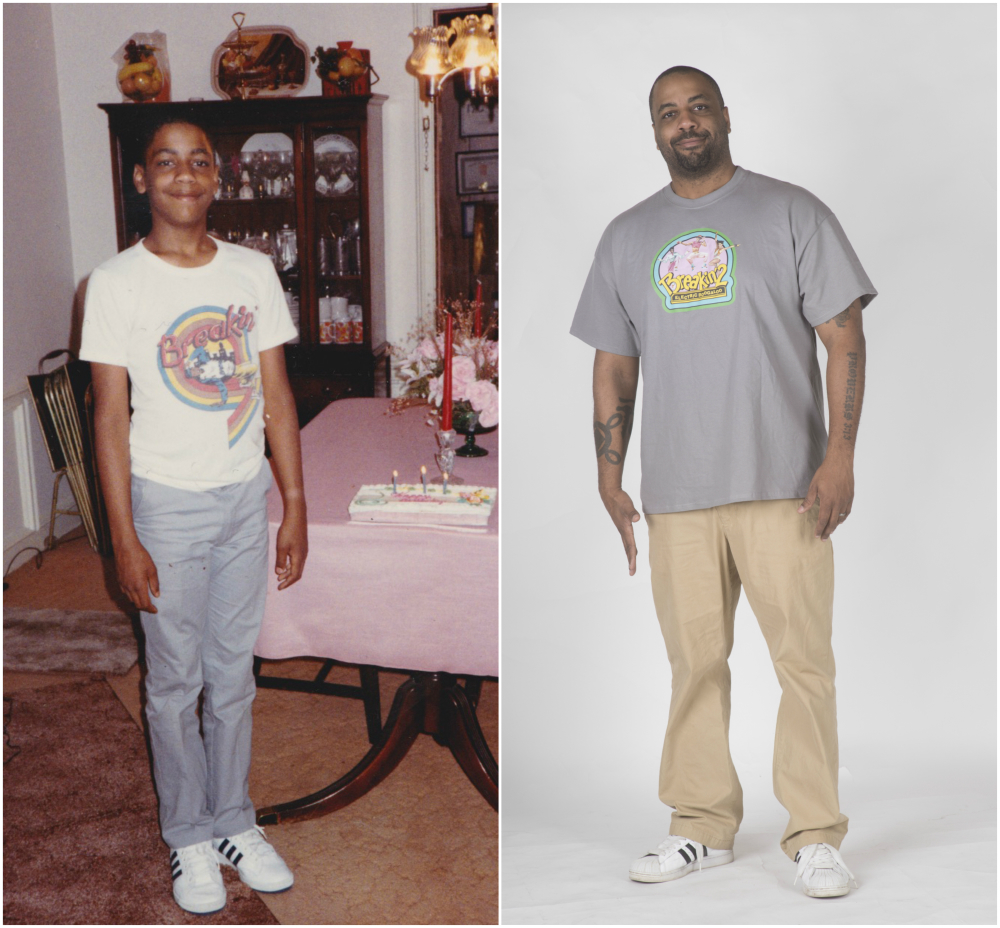 4.Breakin' came out in 1984 but I didn't see until it came on TV in 1986/1987.   My grand ma made an agreement with me; if I didn't get any Ds in school, and I saved my allowance for 5 weeks – then she would pay the rest for my Adidas on my birthday.   The t-shirt was an added bonus.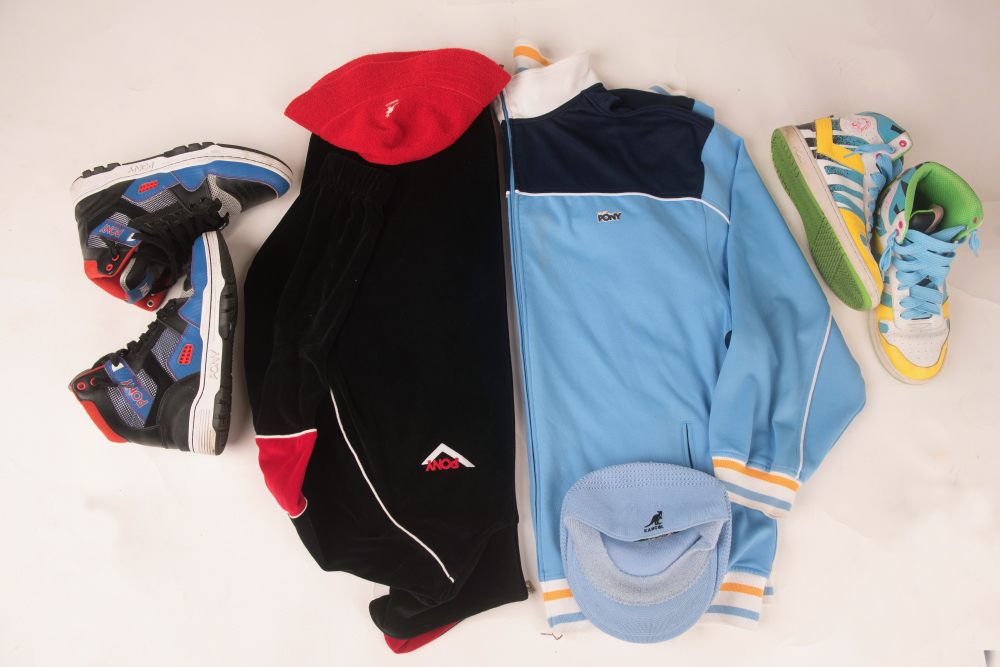 5.I am convinced that my grand ma didn't let me where Pony's because of the Detroit drug gang "Pony Down."  Here we have a couple of retro tracksuit tops, Kangols of course, with the famous Pony M-100s and the not so famous Pony City Wings Cosmo series.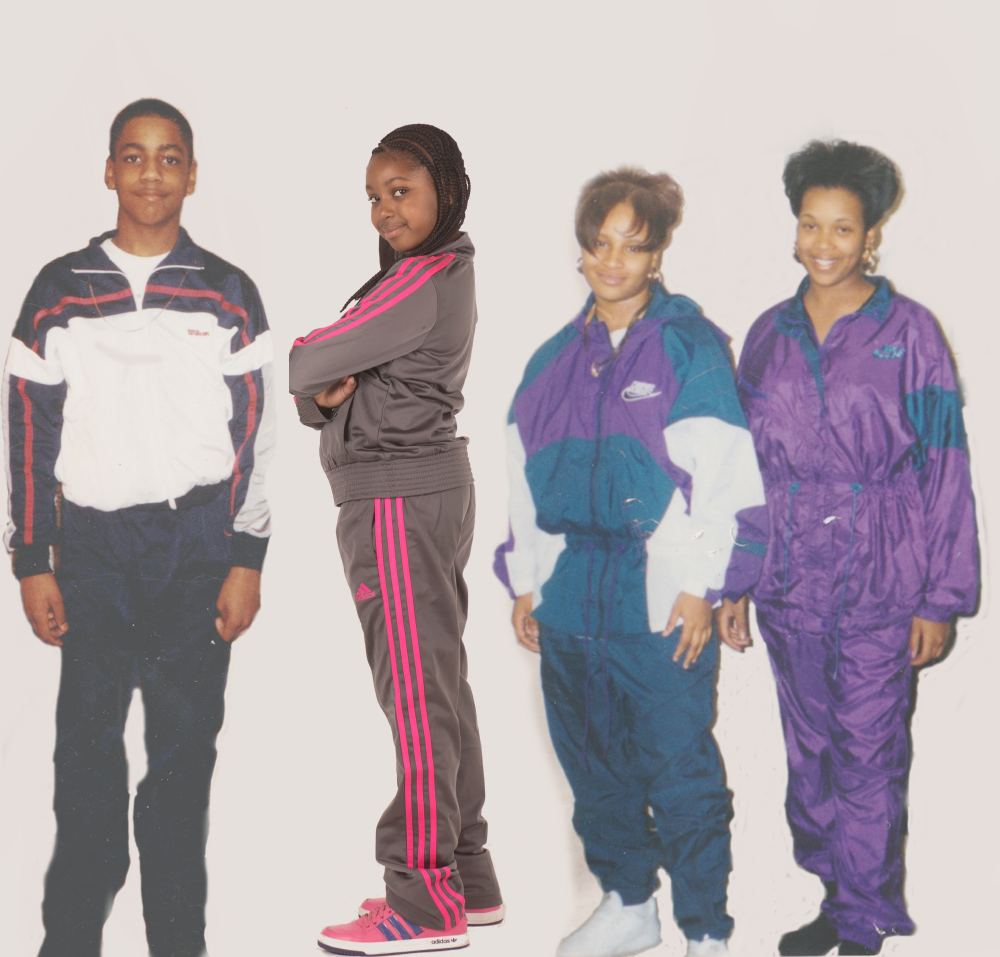 6.Now I did have a tracksuit. But….it was a Wilson. Lol  To the far right is my wife with one of her best friends.  They were a little fresher than me.   Our beautiful daughter in the middle wearing that Adidas suit with all the swagger in the world. Lol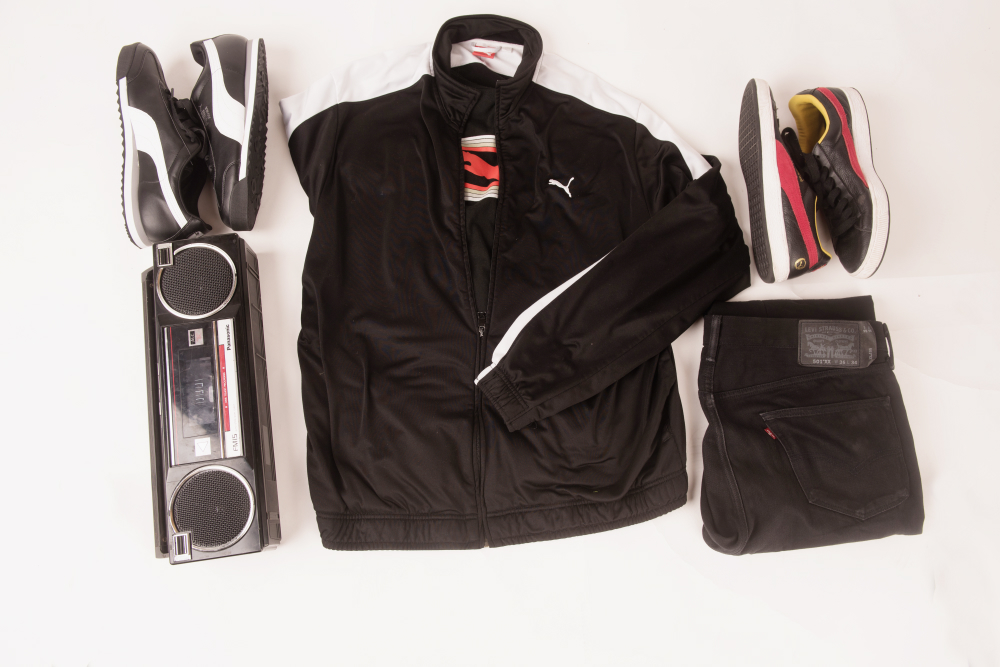 7.  True story.  My grand ma bought a pair of Puma Roma's on clearance for 25 bucks when I was in 6th grade.  I made the mistake in leaving one in the locker-room after gym class.  The next day somebody had put it in the toilet and I was heartbroken.  Name brands were hard to get my household and I had a b-boy original.  I still love Puma though.  I tried to talk my 13-year old into getting a pair but he wasn't feeling them.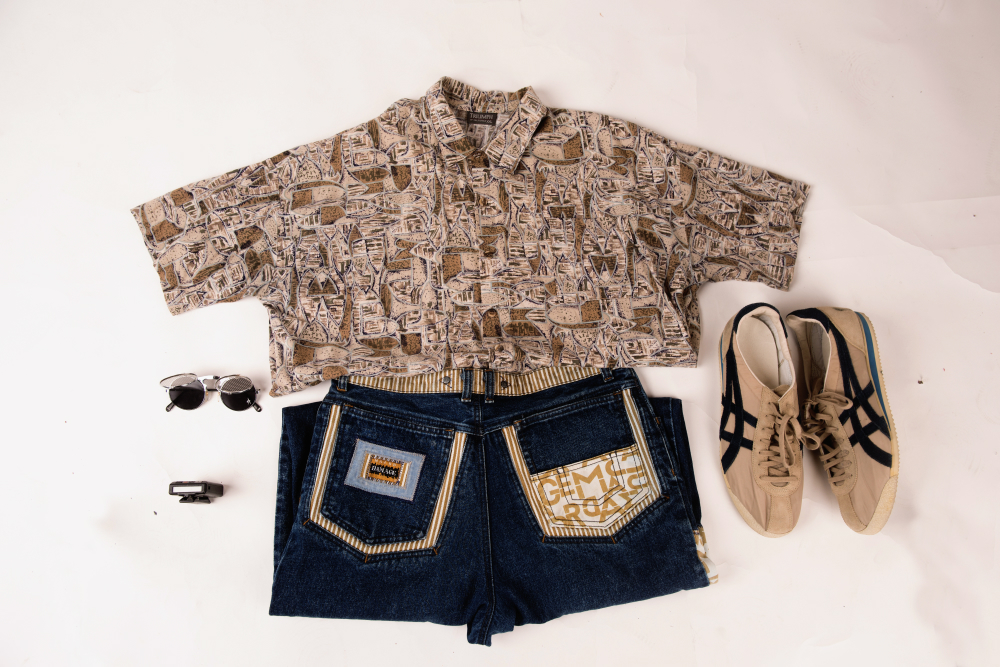 8.  Basically I would go to the mall with my grandparents.  We would go to a store called "Merry Go Round" and I come out with a rayon shirt and a pair of Damage jeans.  Also, I was one of those kids that carried around a pager that wasn't on. Lol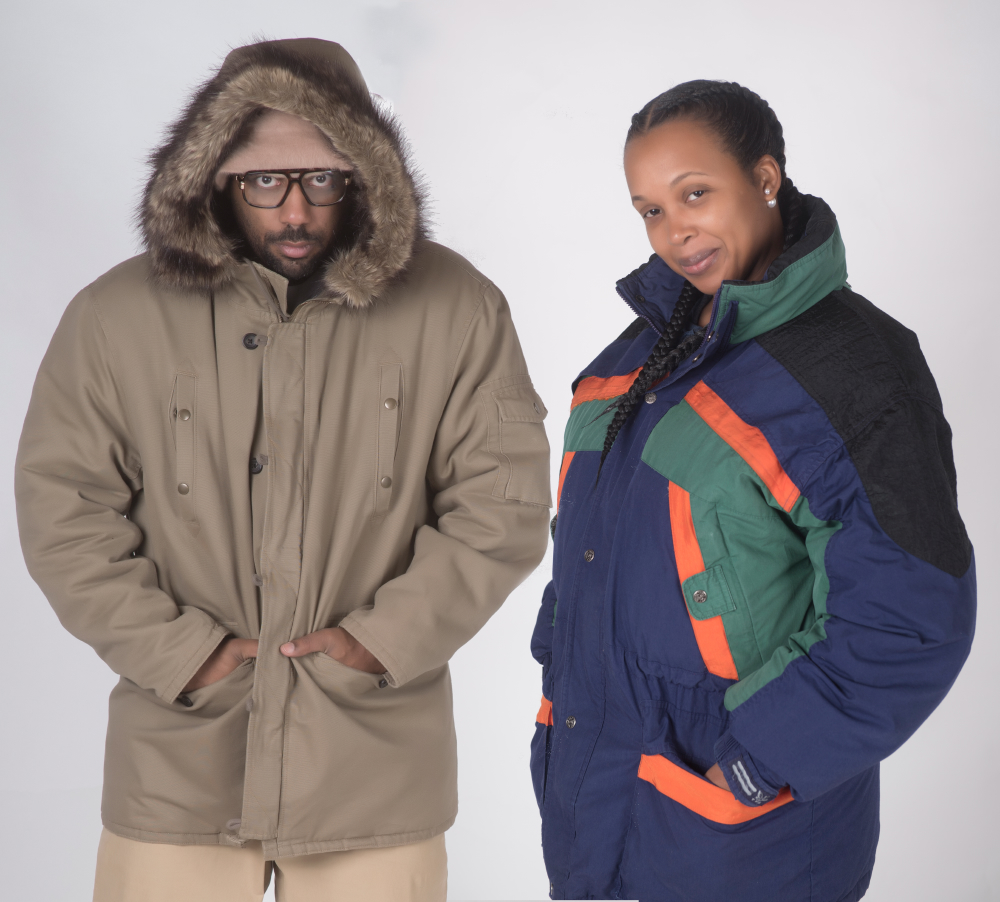 9.  My awesome wife to the right.  This is how all the cute girls in 8th grade dressed wearing a Triple Fat Goose.  Me to the right dressed like the boys who always got the cute girls. The furry Kango, Cazals, and the parka coat.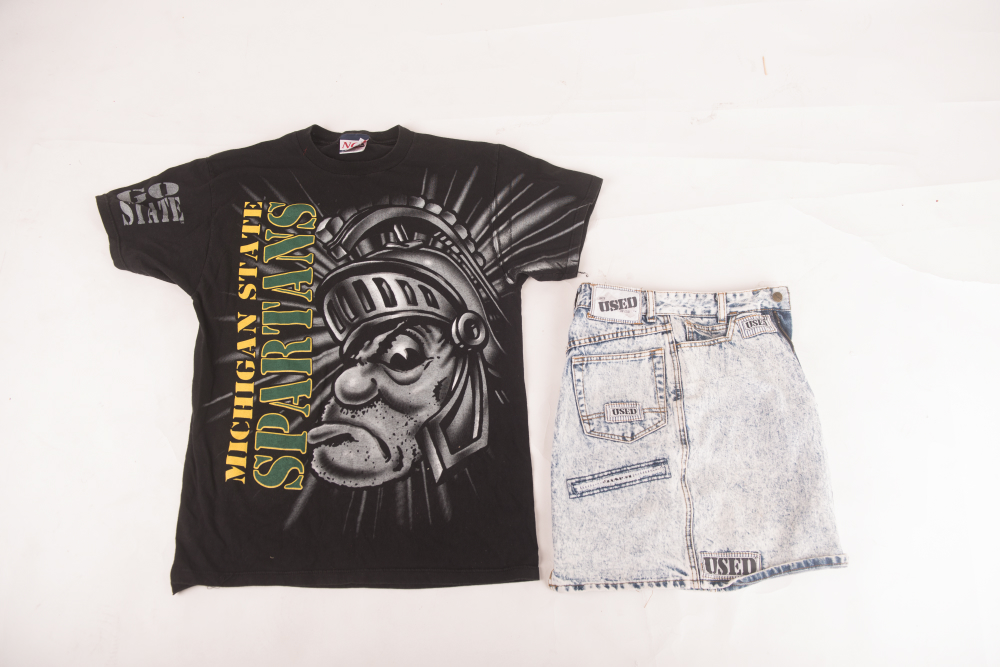 10.  Another Merry Go Round staple.  Get Use by Elle denim skirt with those team shirts that were on every street corner and mall sneaker store in the 90s (the University of Miami ones were especially popular).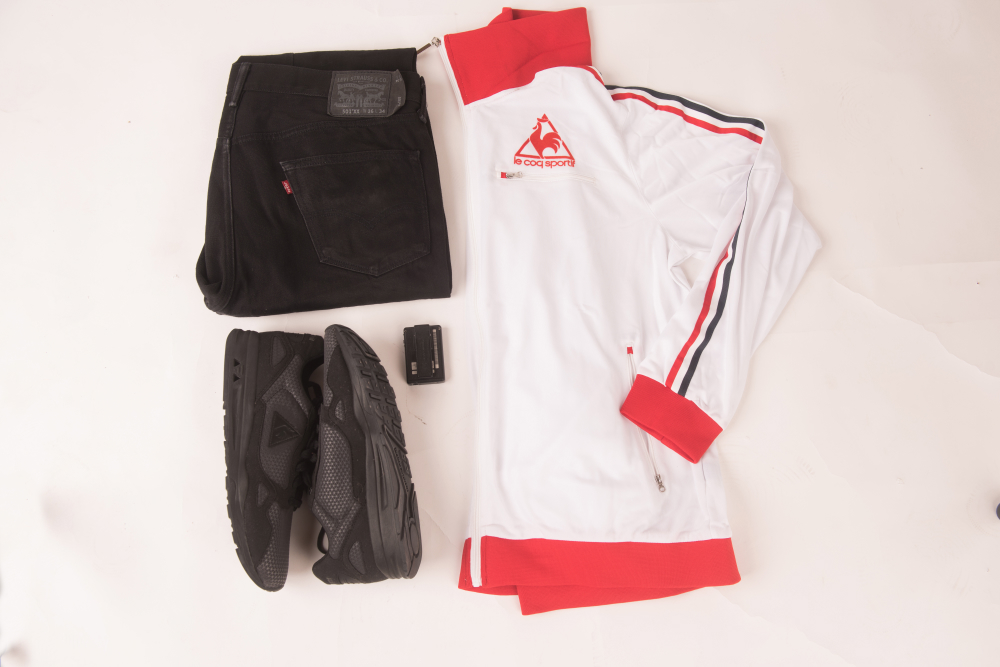 11.  Le coq sportif was one of those brands that I think I wanted for maybe one summer.  From I understand some Philly cats got it popping.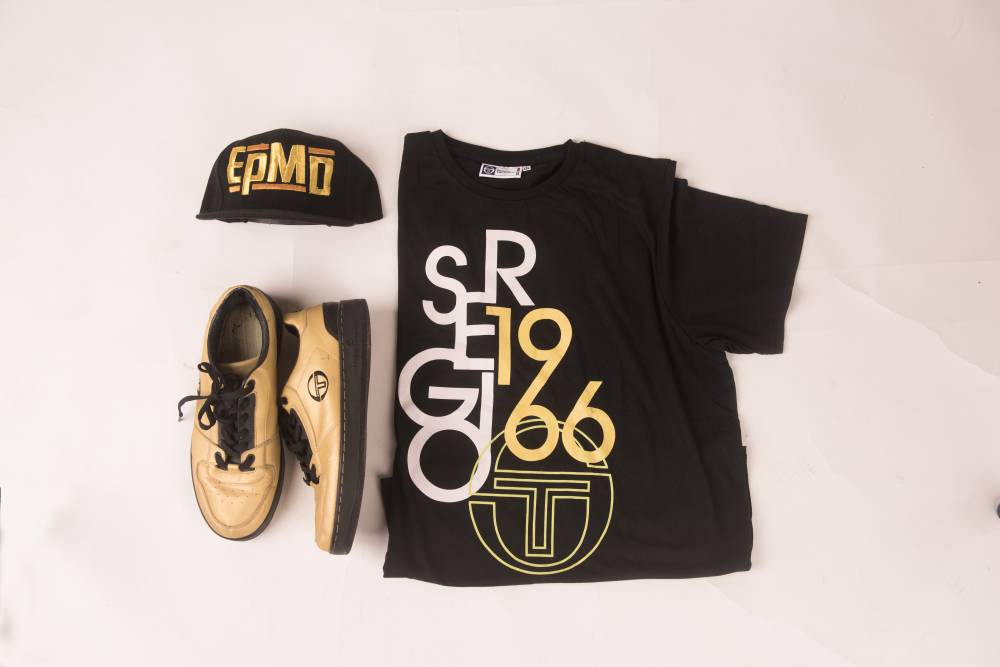 12.I wanted Sergio Tacchini bad.  Again my grand ma refused because of the price. The slightly older kids in the neighborhood used to wear stuff like this.  I knew if they were wearing it; it HAD to be cool! Lol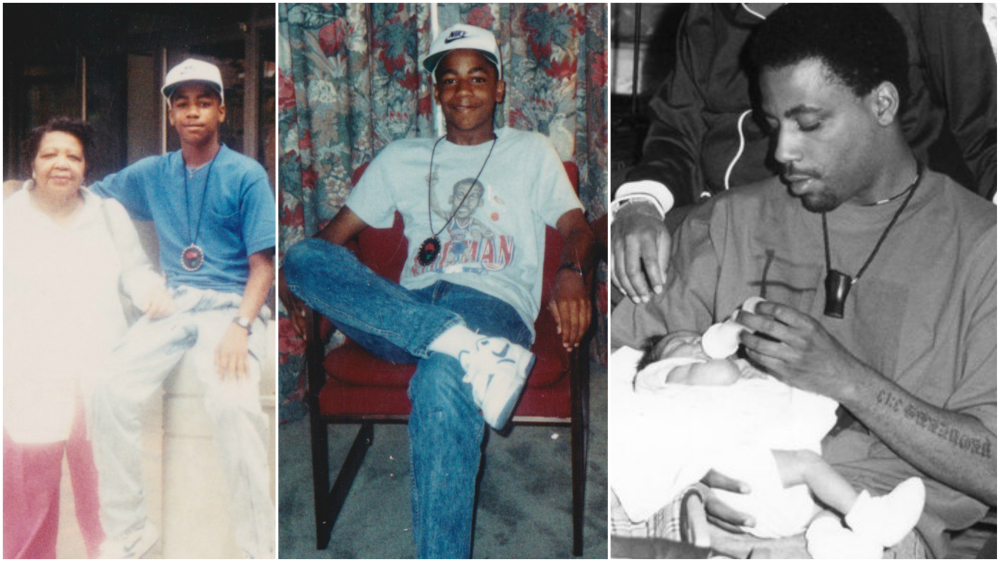 13.  Honestly; I bought that African Medallion at the gas station for five bucks.  This was during the X-Clan, Native Tongue movement in hip-hop.  But to be honest; the sense of culture of history resonated with me and now I have a wide assortment of beads and medallions.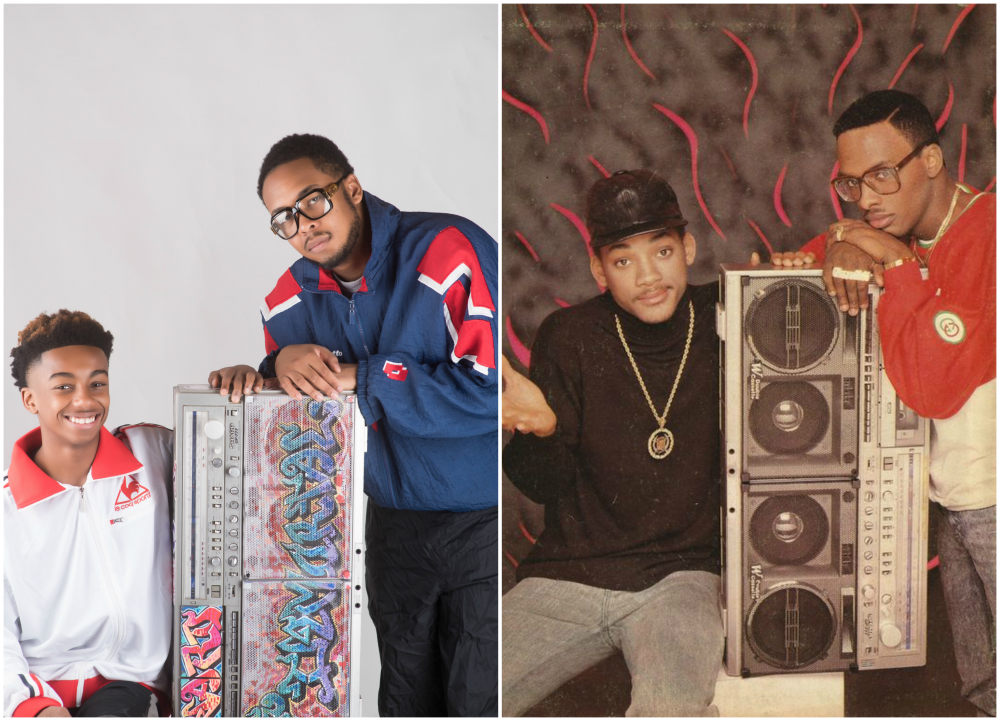 14.  My 13 year-old and my 18-year old reenacting a DJ Jazzy Jeff and Fresh Prince photo.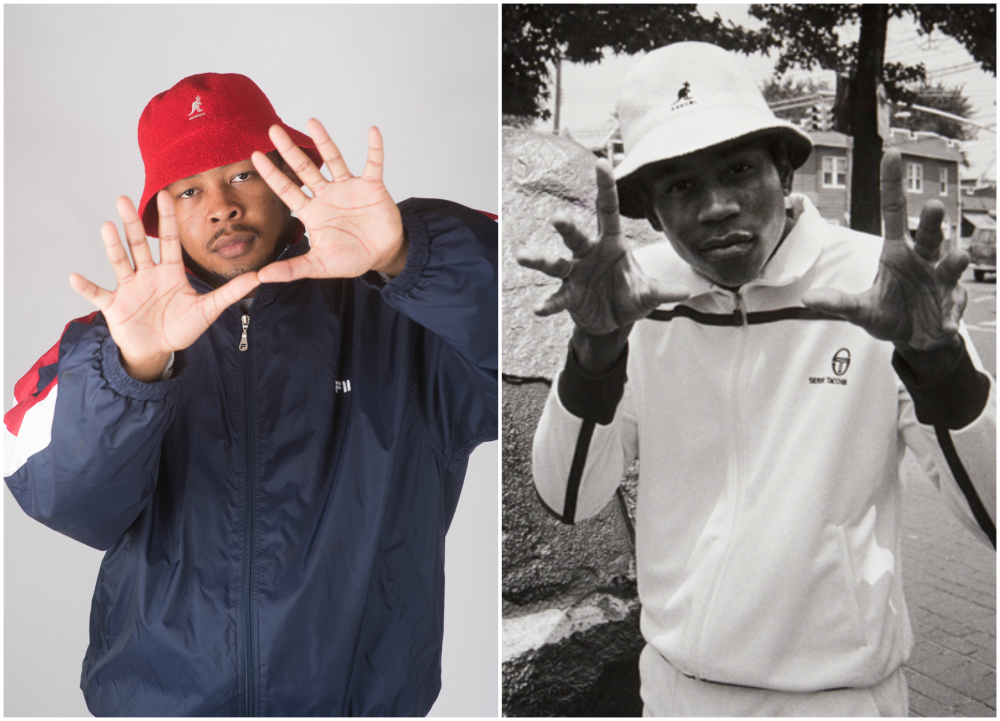 15.   My 18 year-old reenacting a famous LL Cool J photo.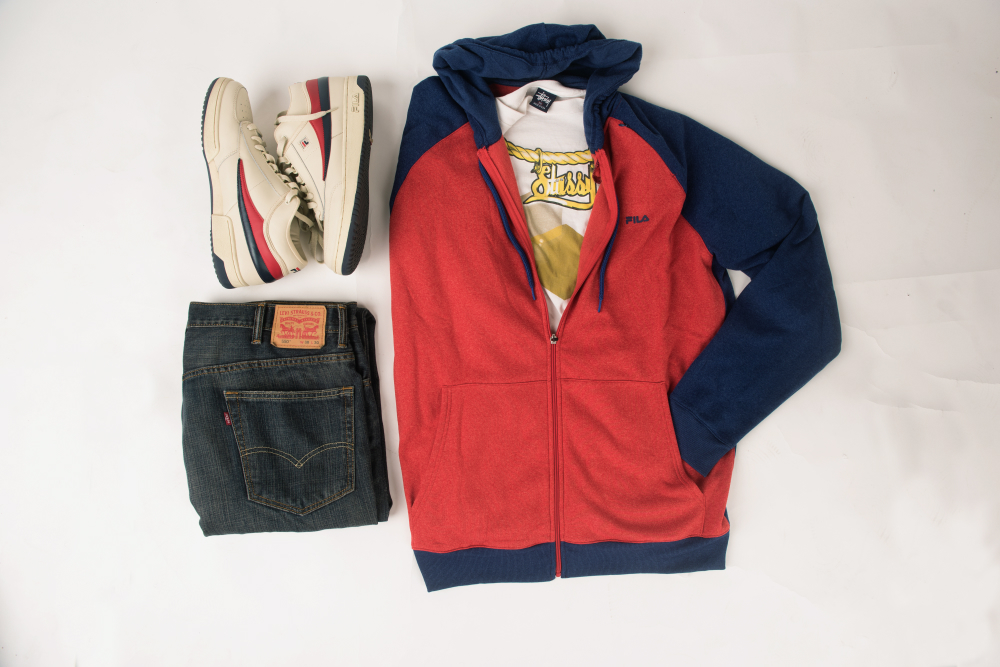 16.     The Fila's you just hadddd to have.  I mean some of the coldest shoes ever.  My grandfather bought me some in high-school.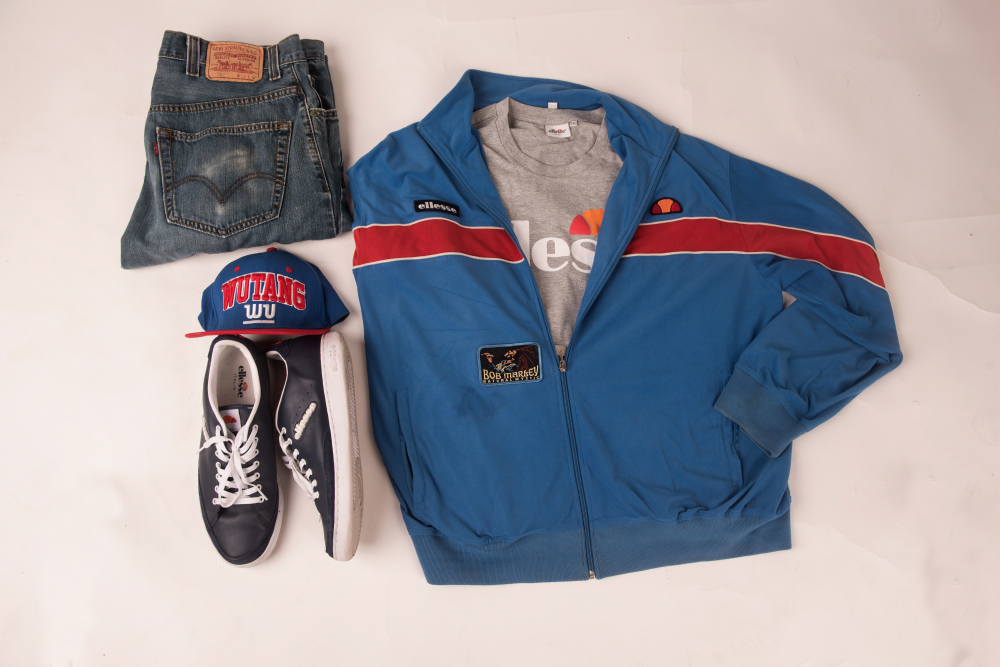 17.    Ellese; another one of those brands I wanted for a summer.  That track suit top is vintage Bob Marley endorsed and I know the Wu Tang snapback is form a different era but it matches to good not to add it in! lol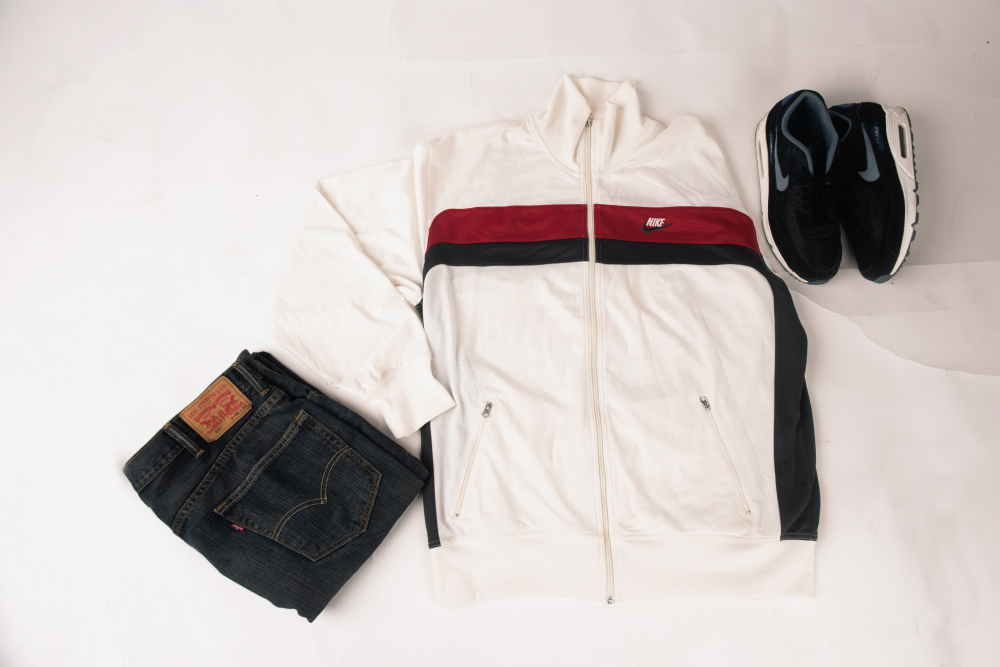 18.     Nike had a lot of cool stuff.  Here we have a pair of retro Airmax 87s with a vintage track suit top.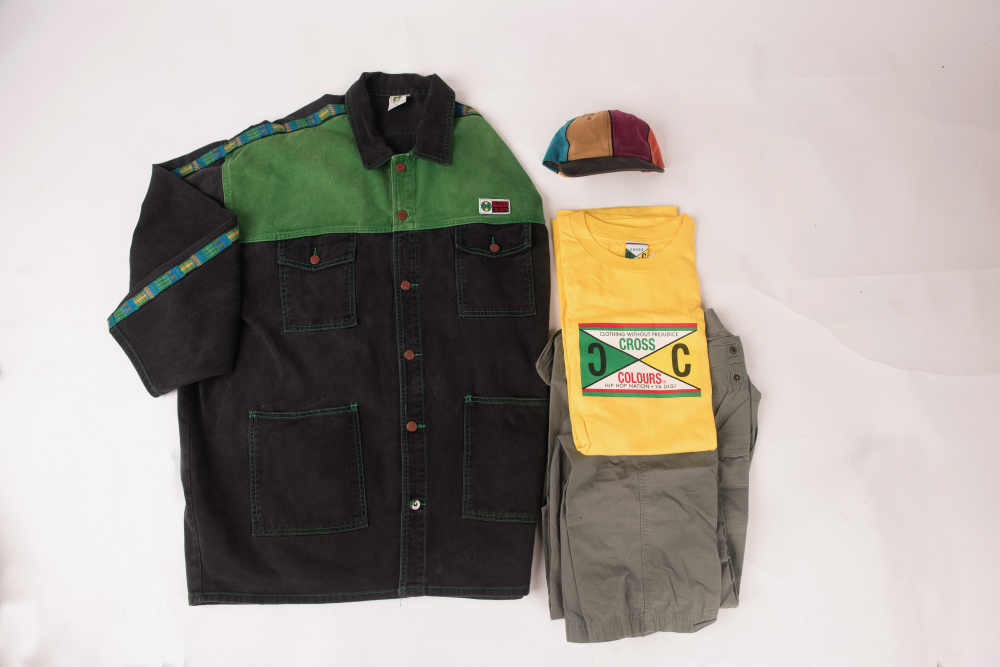 19.   Everything about Cross Colours was dope.  How they spelled it, the Afrocentric and Kente patterns they used, and most importantly; they were baggy!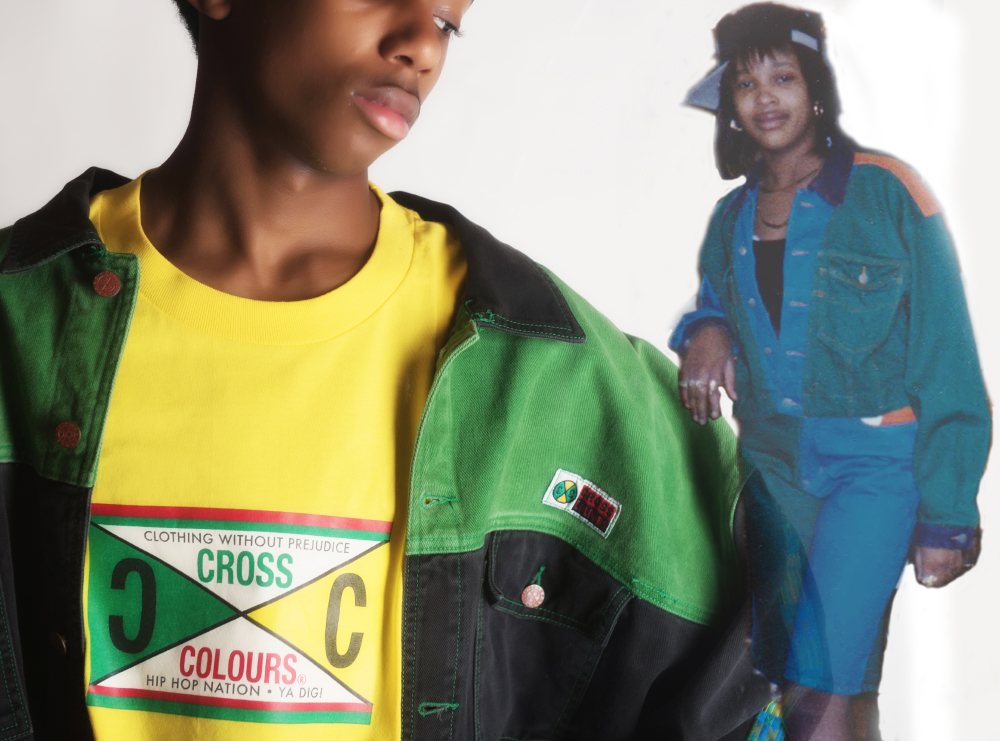 20.     My wife in the background wearing her Cross Colours back in the 90s while my 13 year-old has on some of my vintage and retro gear.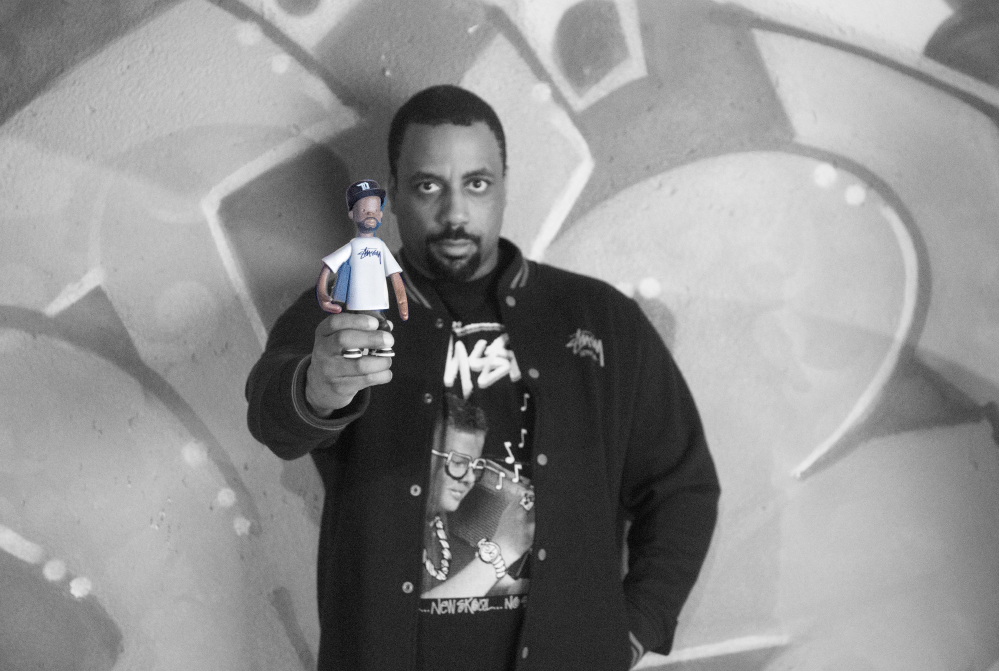 21.   The only, only reason I knew about Stussy was hip-hop legend and producer J. Dilla. I truly only bought shirts because he was rocking them. Stussy should be where Supreme is in urban fashion lore but that's a different topic.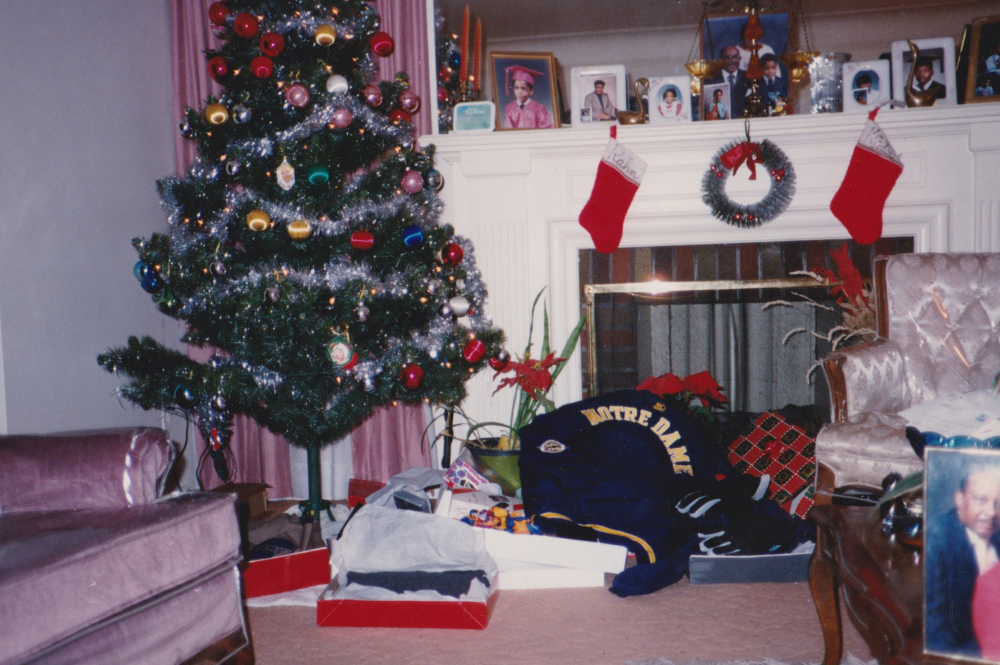 22.     1991; my grand ma's last Christmas.  After much begging she bought me the Notre Dame Starter coat.  This was a crazy time.  Folks were getting shot over a damn $100 coat!  The midwest teams were easy to find but if you had a team like Duke, San Francisco, or North Carolina – you probably avoided walking home from school.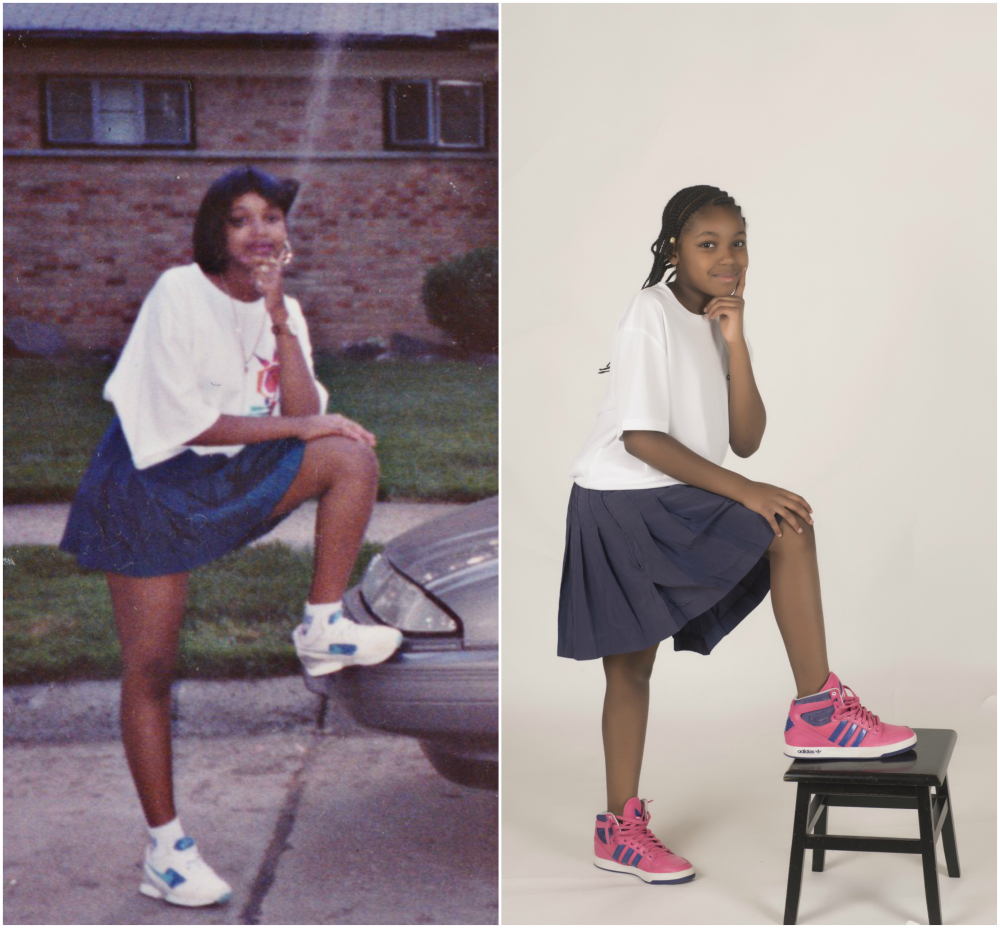 23.    My wife and daughter rocking the fly tennis skirts of the 90s.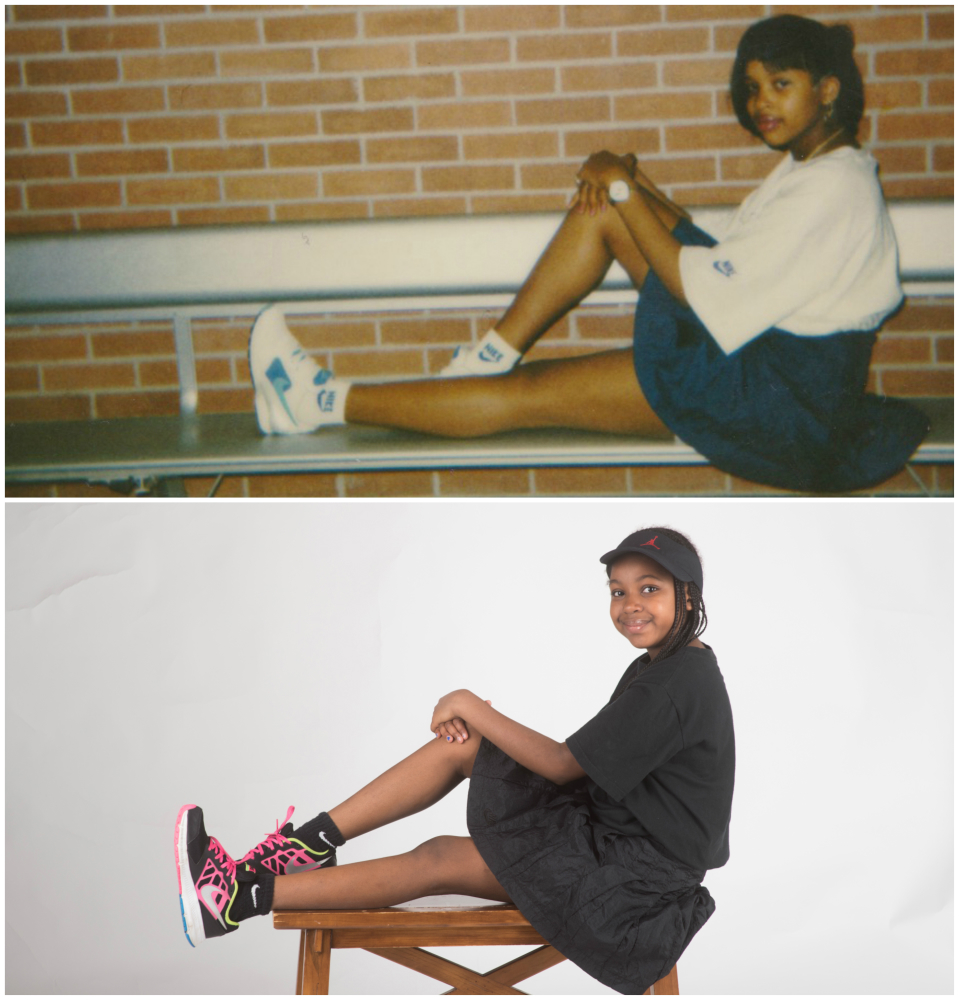 24.    My wife thought she was so fly but my 8 year-old inherited her good looks.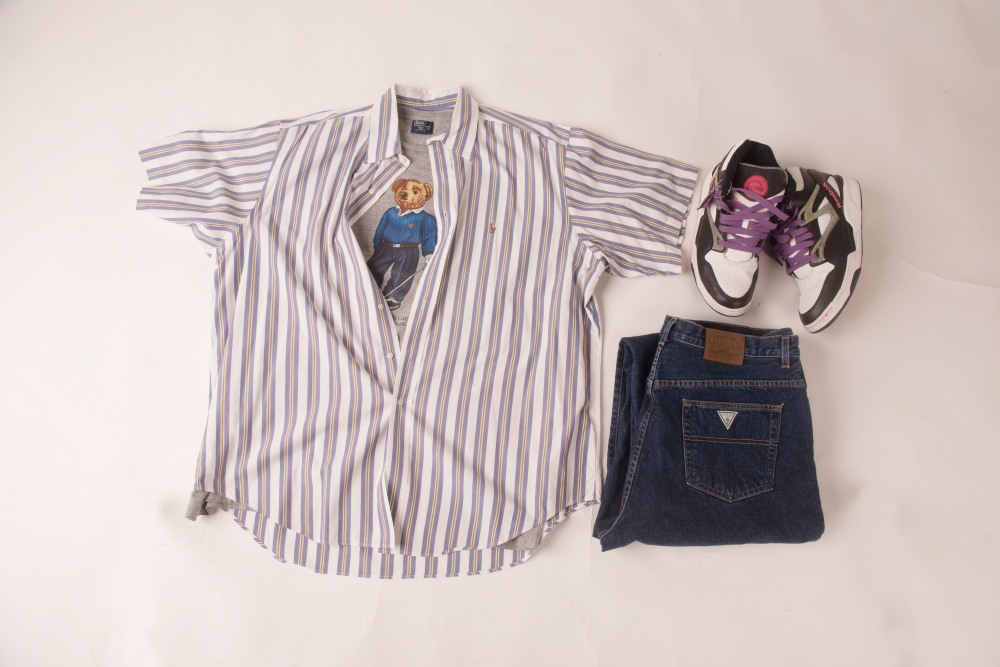 25.    A striped Ralph Lauren button-up and some guess jeans.  This makes me want to jump Marty McFly like back to the 90s.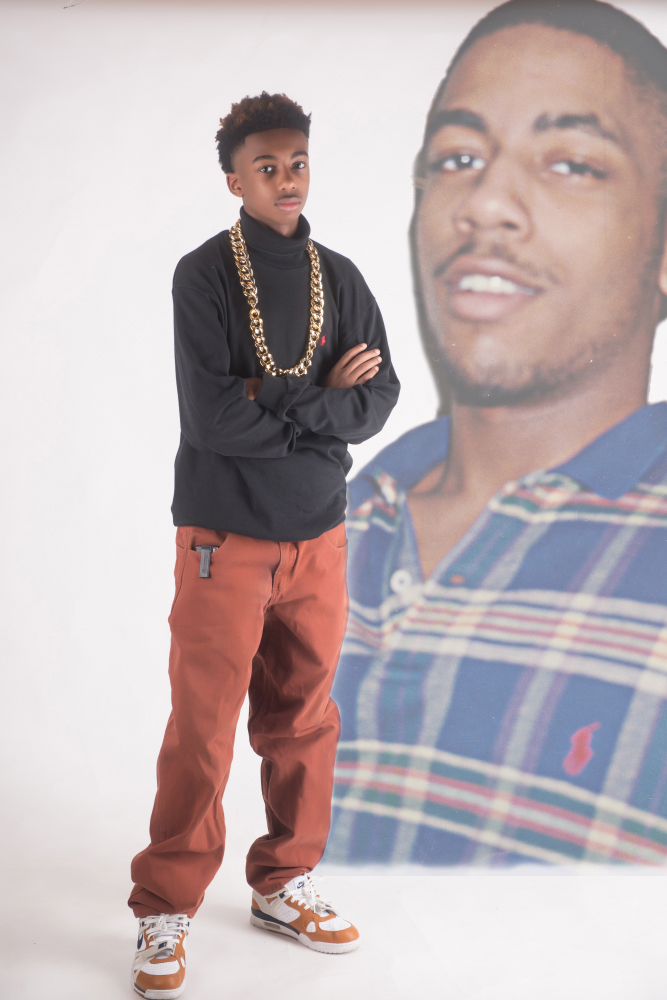 26.    My 13-year with the brownish colored Guess jeans and the Polo turtle neck.  Now that Polo shirt I'm wearing in the faded picture could tell some major stories.  We used to call that the "neighborhood polo" meaning that everyone in the neighborhood had worn it. Lol  All of us went to different high-schools so we actually swapped gear frequently but the "neighborhood polo" would get swapped every day for a week sometimes. The shirt matched everything and none of us had ever seen a shirt like it!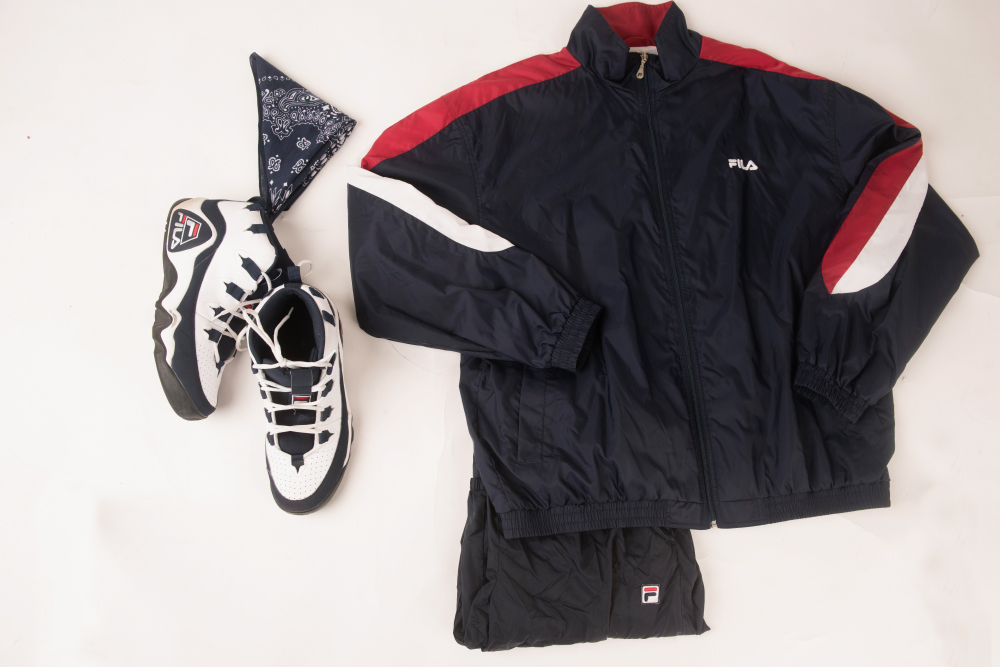 27.  Everybody loves the Grant Hill 96 version but the 95s were the first and my favs.  They dropped a year after I graduated high-school.  Grant Hill was the man back then.  Fila put mural of him on the side of a building in downtown Detroit.  Also this is around the time bandannas had found their way from gang stapes and into urban fashion.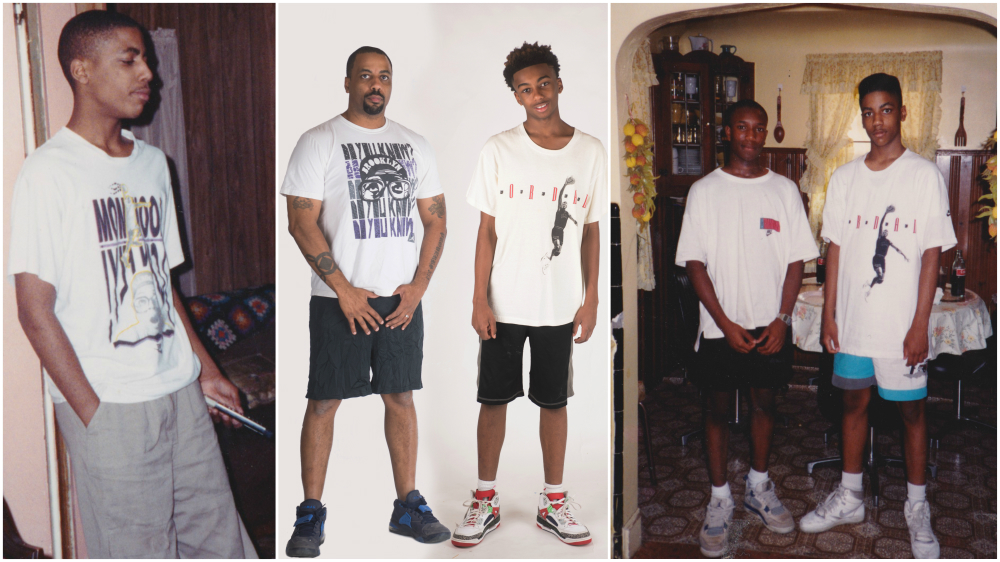 28.    My 13 year-old rocking the exact same shirt I had.  The Nike shirts of the 90s were the best. This was before they went to the goofy slogans and they just let the images and artwork do the talking.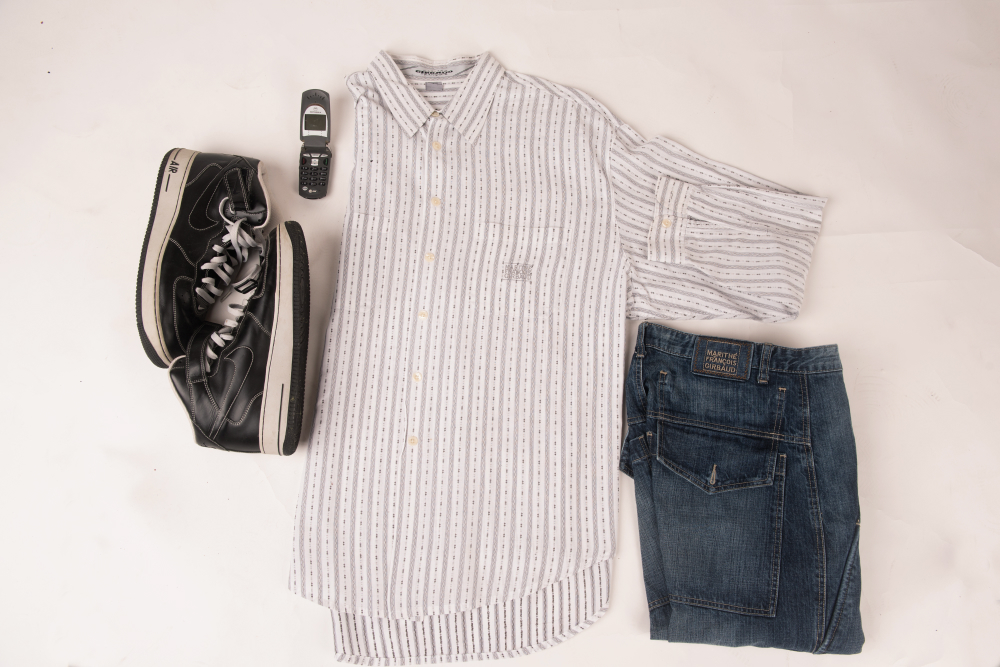 29.   Marithe Francois Girbaud made some of the coolest stitched jeans and denim sets.  It's a shame they went out of business.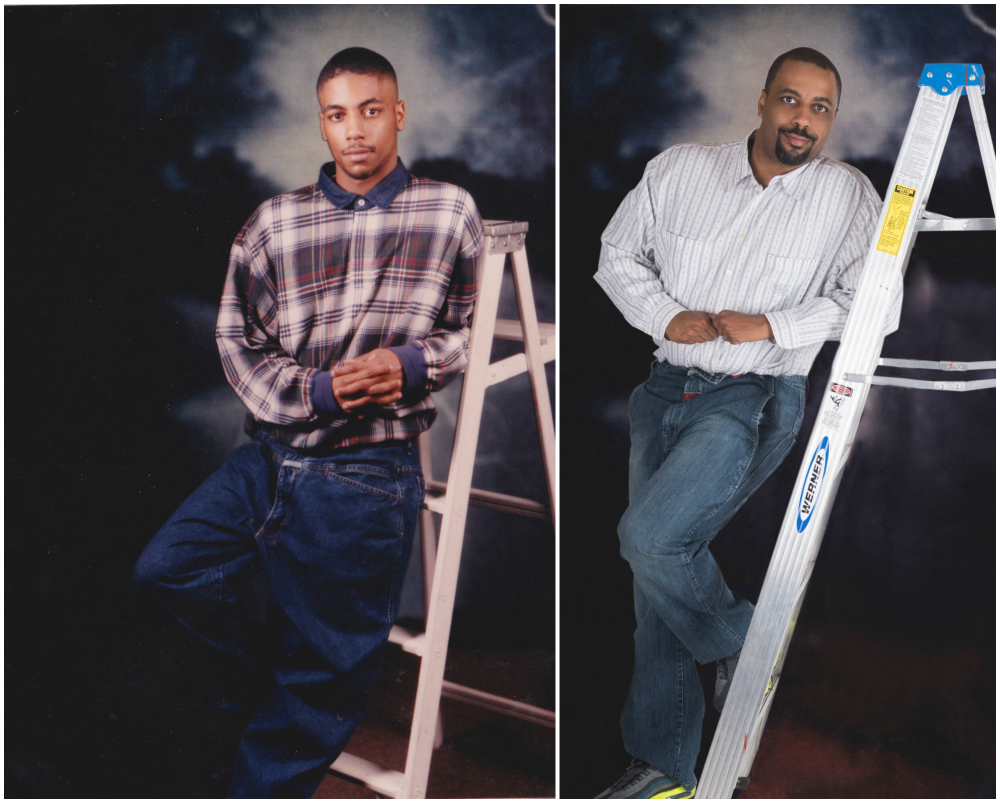 30.    One of my senior pics taken by Motown Photography.  I had those Girbauds looking right! Lol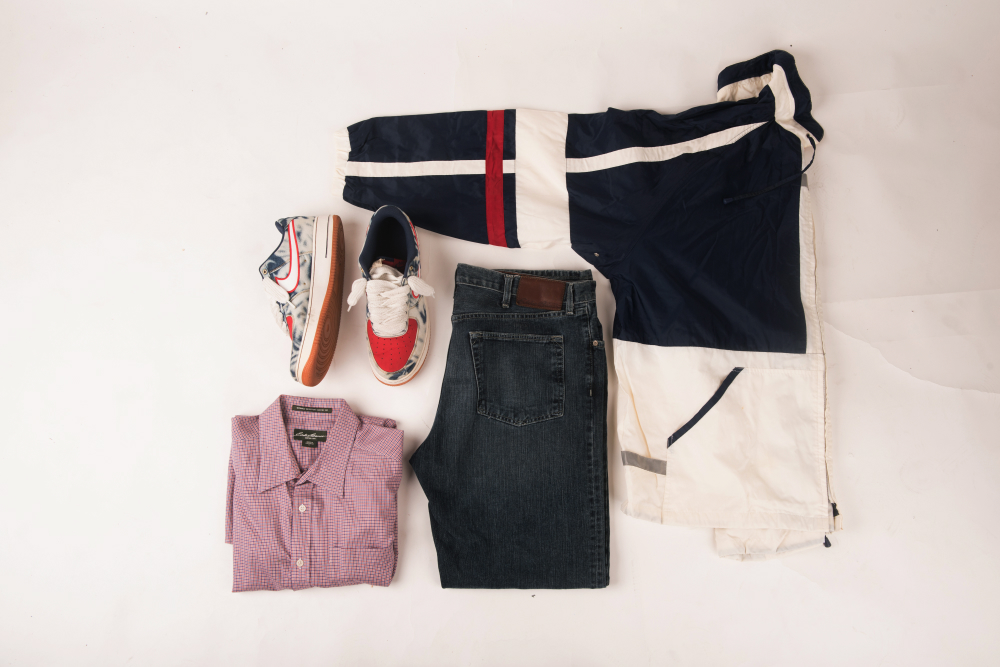 31.    Now we rocked with Eddie Bauer but not too much. Now my boy Mario had the yellow version of the Perry Ellis jacket to the right.  That jacket is epic.  It always topped off an outfit just right.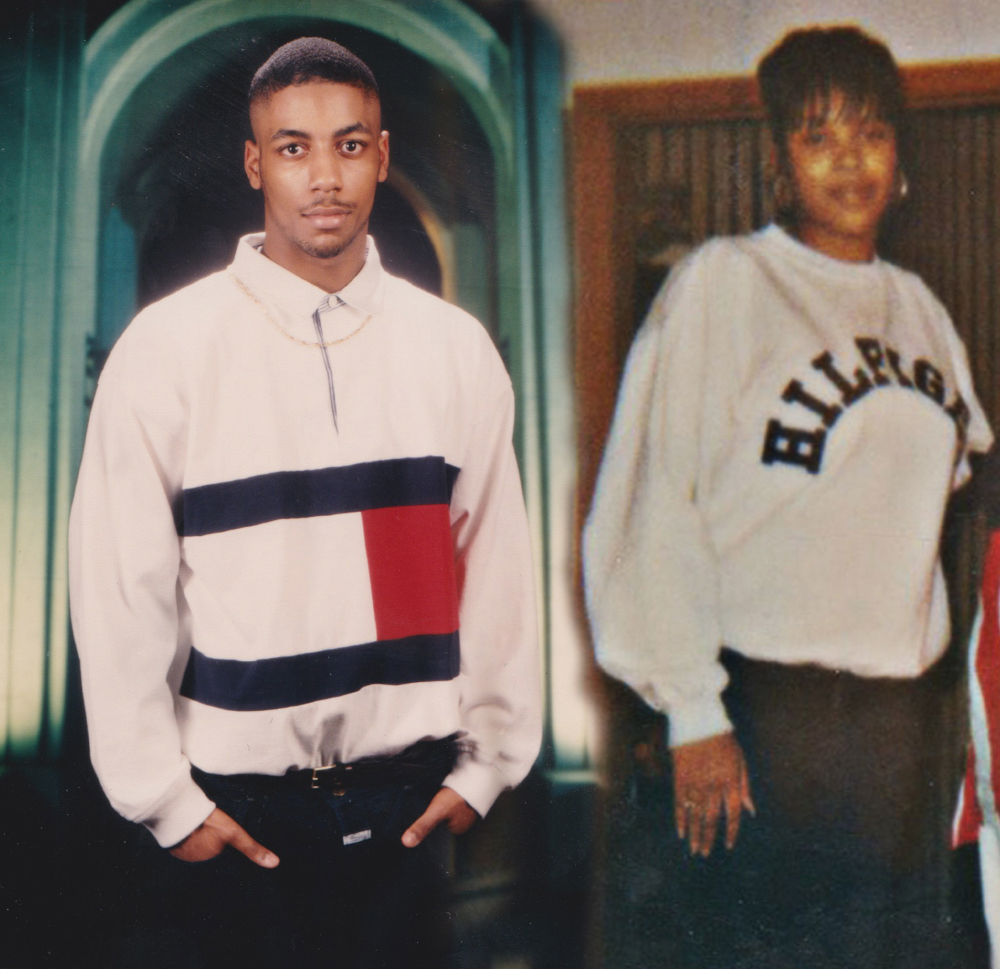 32.   High School photos of my wife and I wearing our Tommy shirts.  Now I probably wore that white Tommy 5 times tops.  It was one of those shirts that you just couldn't wear a lot because folks would think you're wearing the same shirt all the time. Lol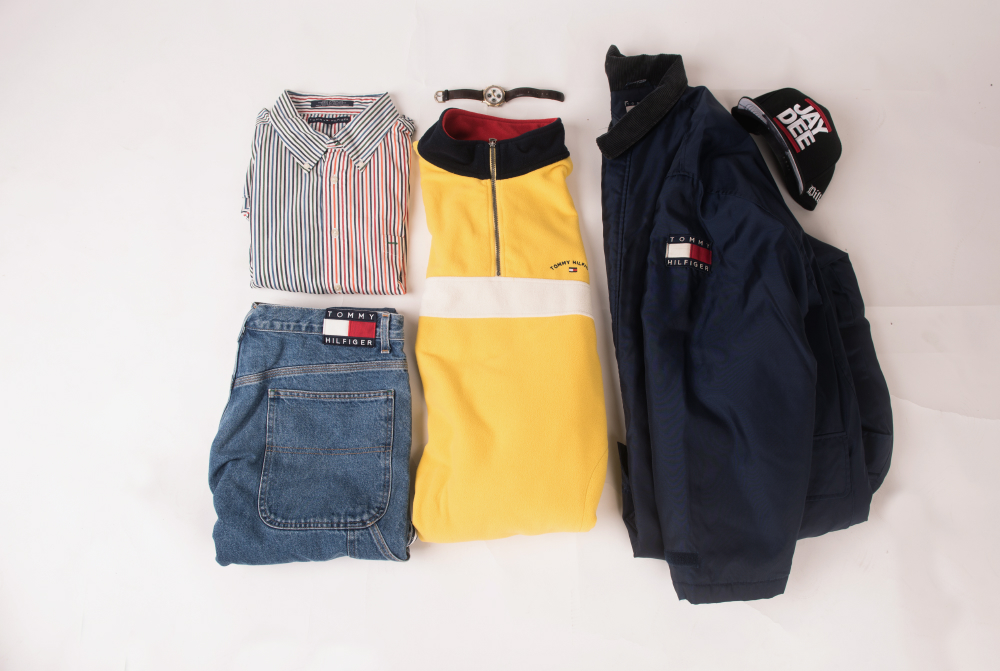 33.   But you couldn't avoid Tommy.  This styles and colors were bold and in your face and plus every damn rapper had it on!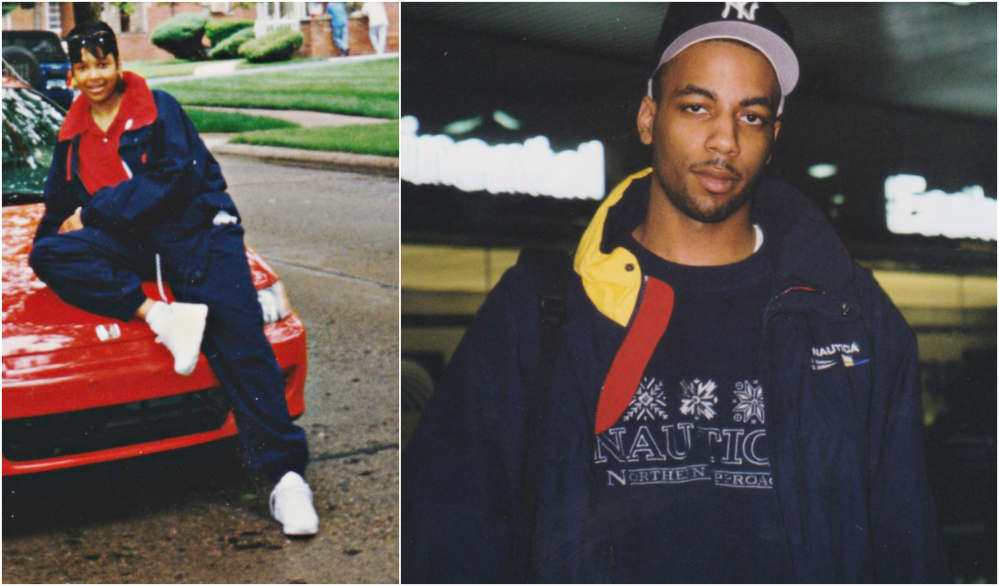 34.      Before Lil Uzi Vert brought Nautica back to life; it was a 90s staple.  It always seemed laid back.  As you can see my wife and I had similar taste in clothes and colors.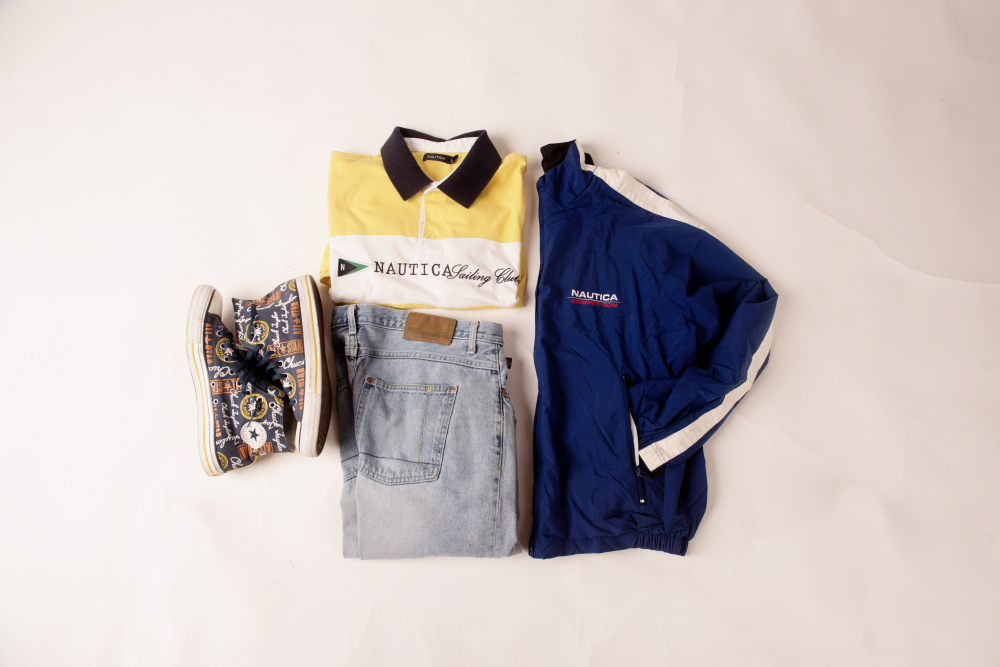 35.  Was it just me or did Nautica Competition seem like their answer to Polo Sport. Lol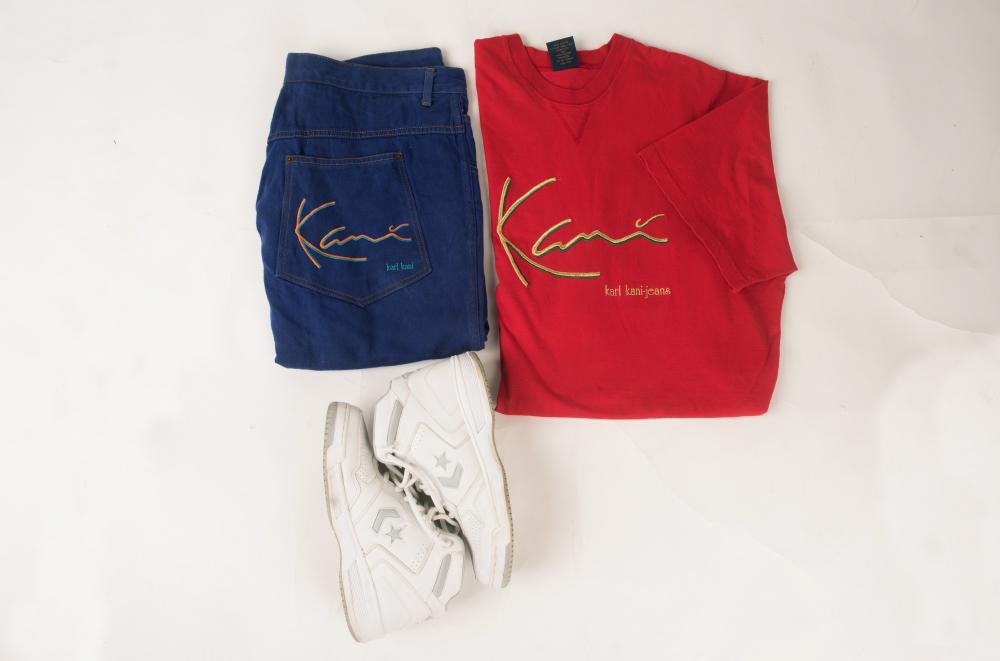 36.   When it came to super baggy; nobody could outdo Karl Kani. I wore Karl Kani well into mid 2000s.  His clothes fit great and looked great- all starting form that first edition.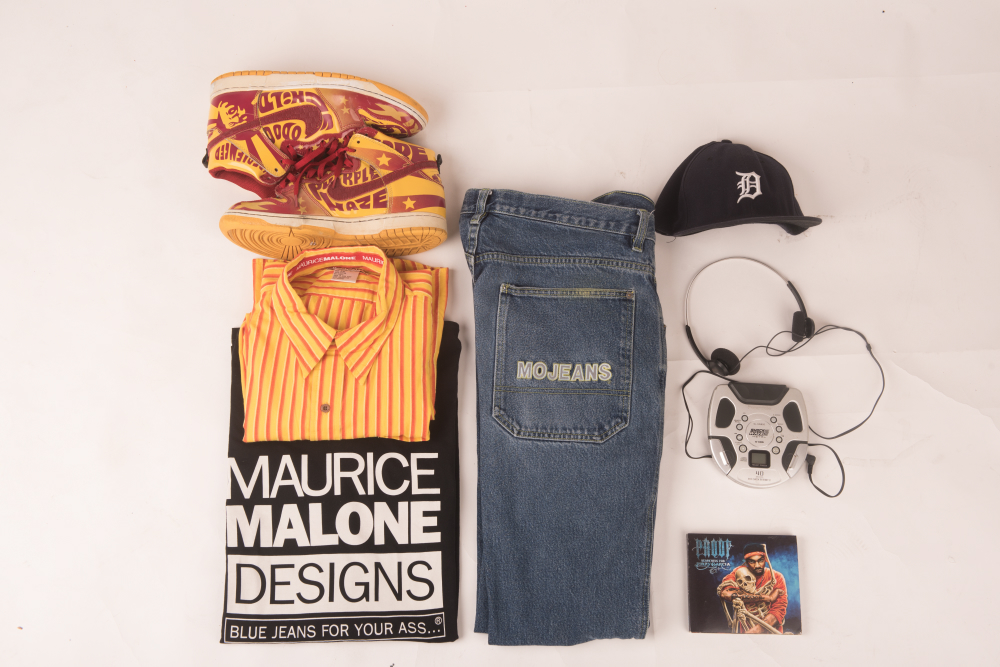 37.  Now I could write a 30 page article on Maurice Malone.  When he wasn't pushing his super dope clothing brand; was financially carrying the Detroit hip-hop scene on his back in the 90s.  The Hip-Hop Shop changed lives for many Detroit artists.  #RIPBigProof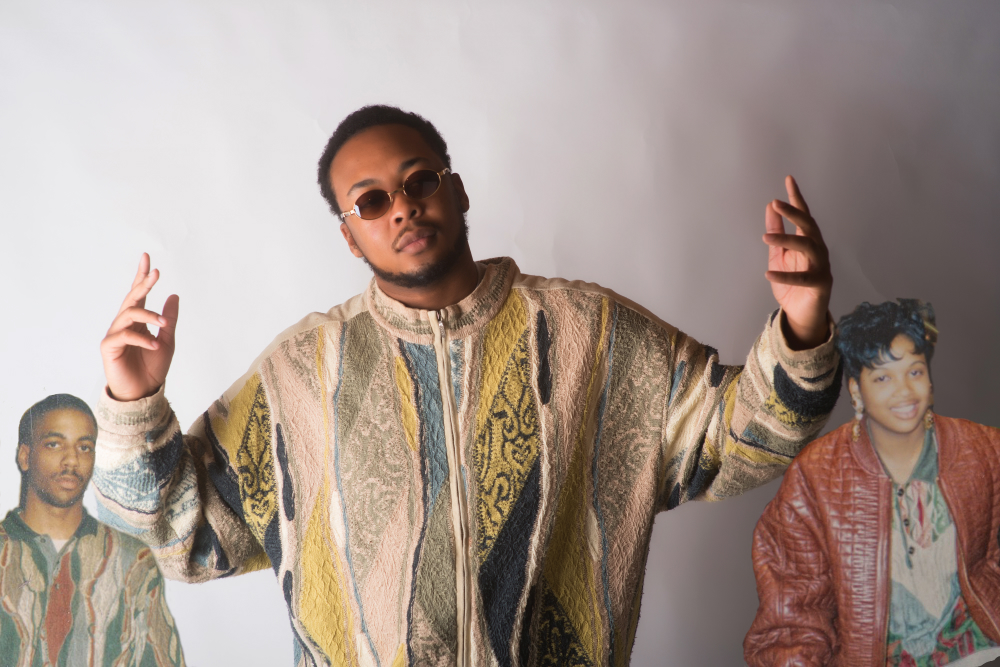 38.   My wife and I on each end and our 18 year-old in the middle.  Last time I wore a Coogi was 1999.  I was at Coco's House of Comedy and the comedian Foolish clowned me for wearing a sweater on in the summertime (it was actually spring though lol).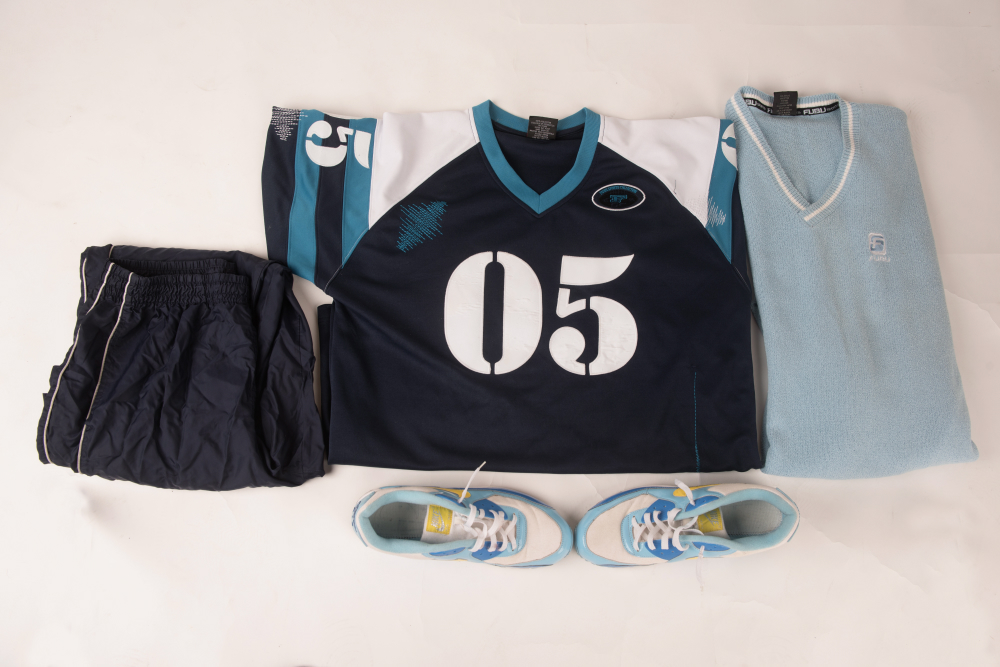 39.   Don't front. It was For Us By Us and we allllll wore it. I know I did!!    I had a whole bunch of this stuff!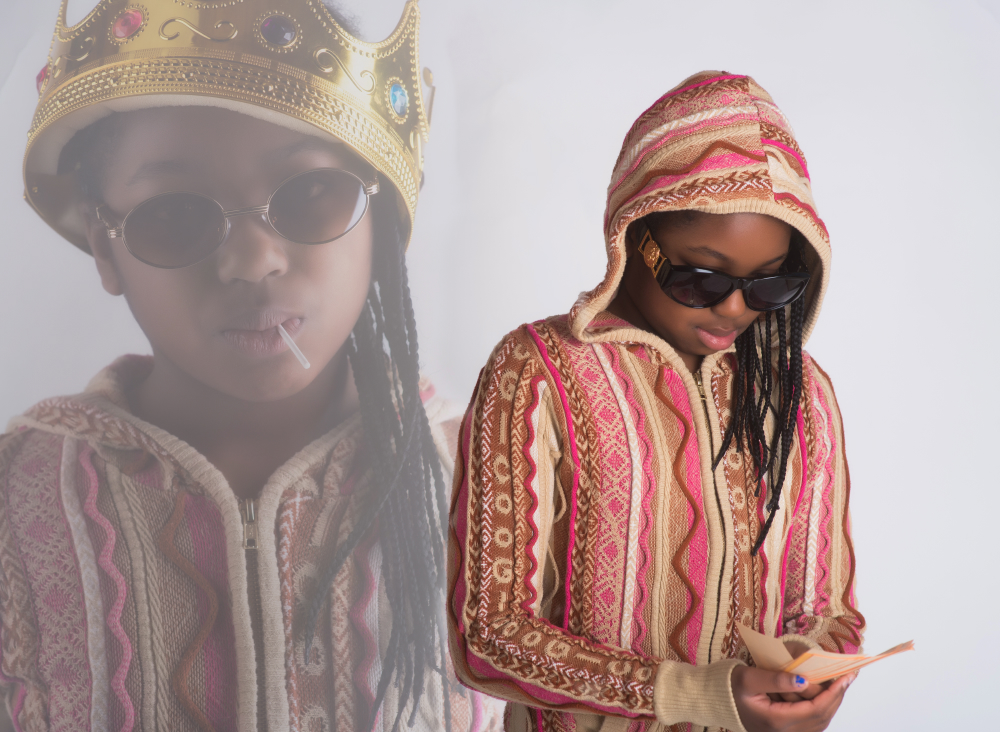 40.  My 8 year-old rocking a couple of Biggie poses in her girl's Coogi. Swagger on a million.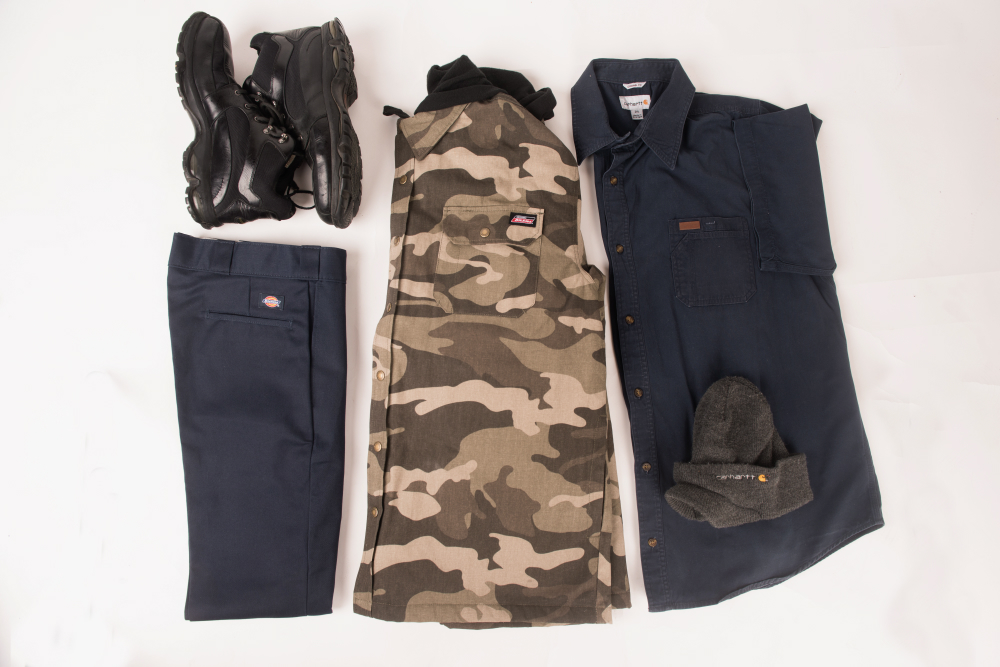 41.   Didn't matter if it was Carhartt or Dickies. Workwear was/is the easiest stuff to wear.  Most of it is camo or a solid color and you just throw it on and mob out.  Those are a very underrated pair of Rockport boots in the upper left hand corner.  Rockport was big in Detroit; not sure about everywhere else.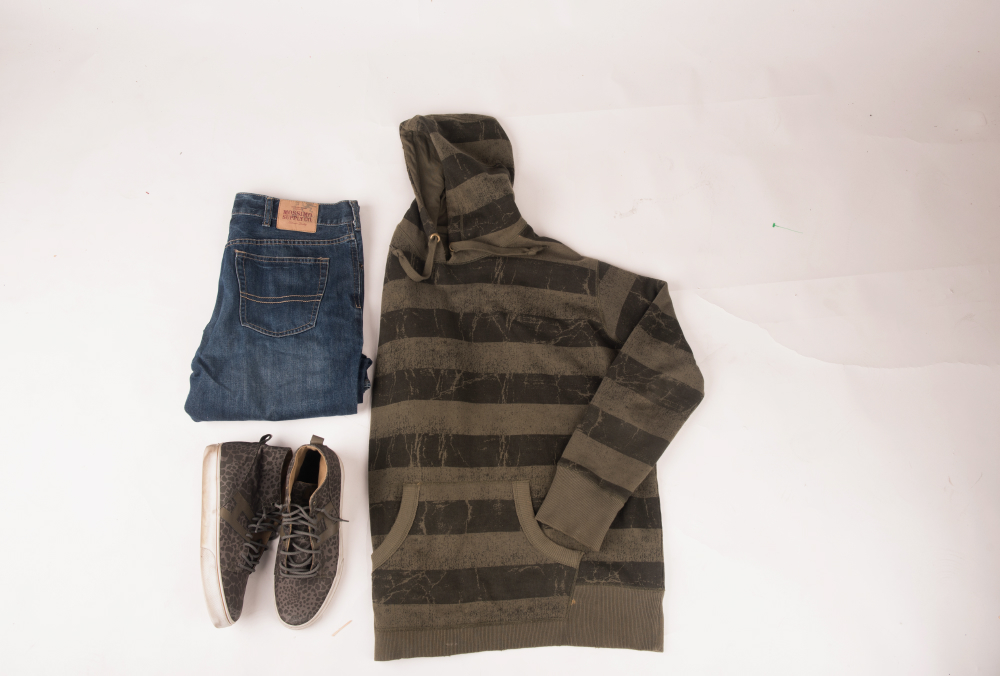 42.   A few relics from Mossimo back before they were Target mainstays.  Those are a pair of not-so-old Huff hi-tops next to them. Different eras but they match. Lol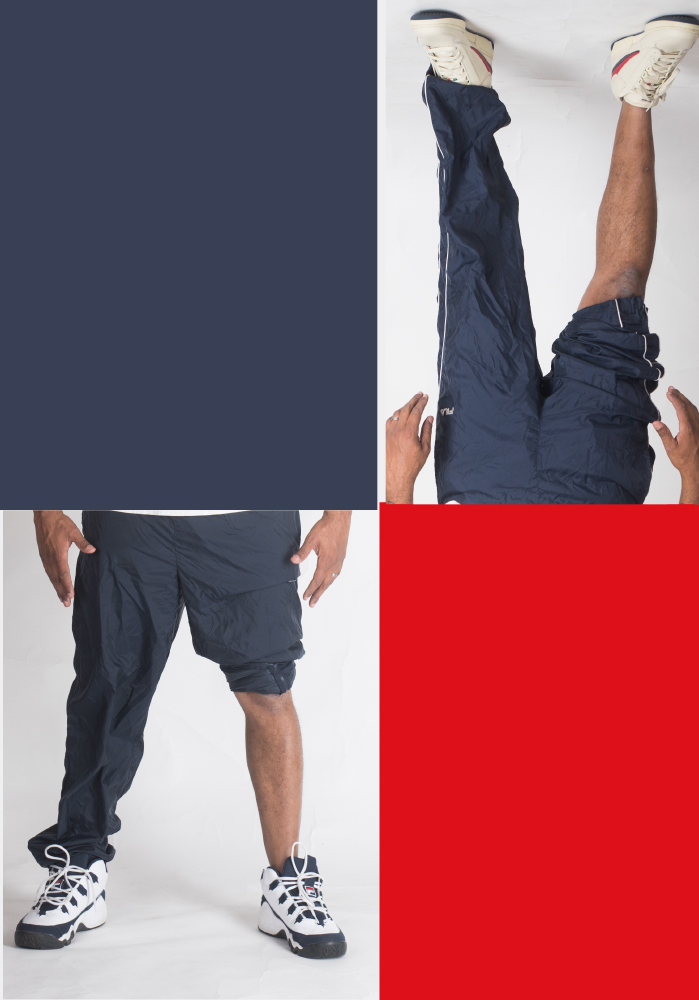 43.   Why exactly did we wear our jogging pants like this?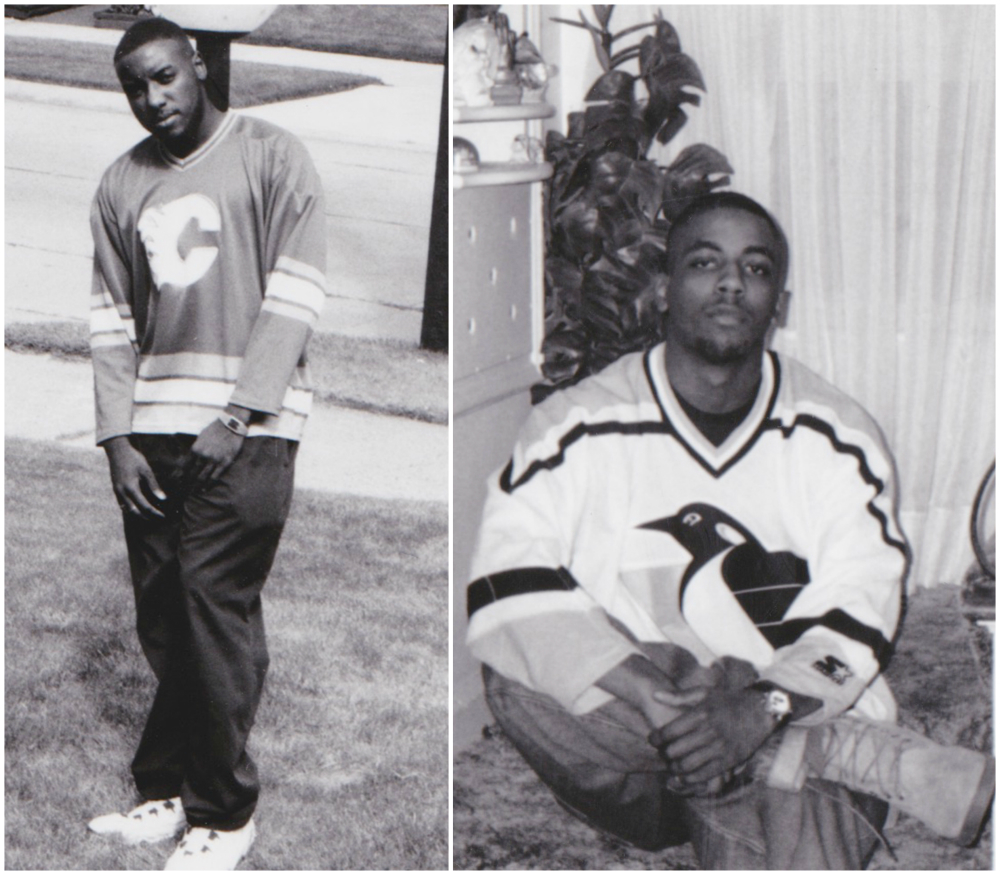 44.   I've never been a fan of hockey but when hockey jerseys found their way into urban fashion; I went out and got one!! Lol  Now my boy Randy to the left was actually a hockey fan! Lol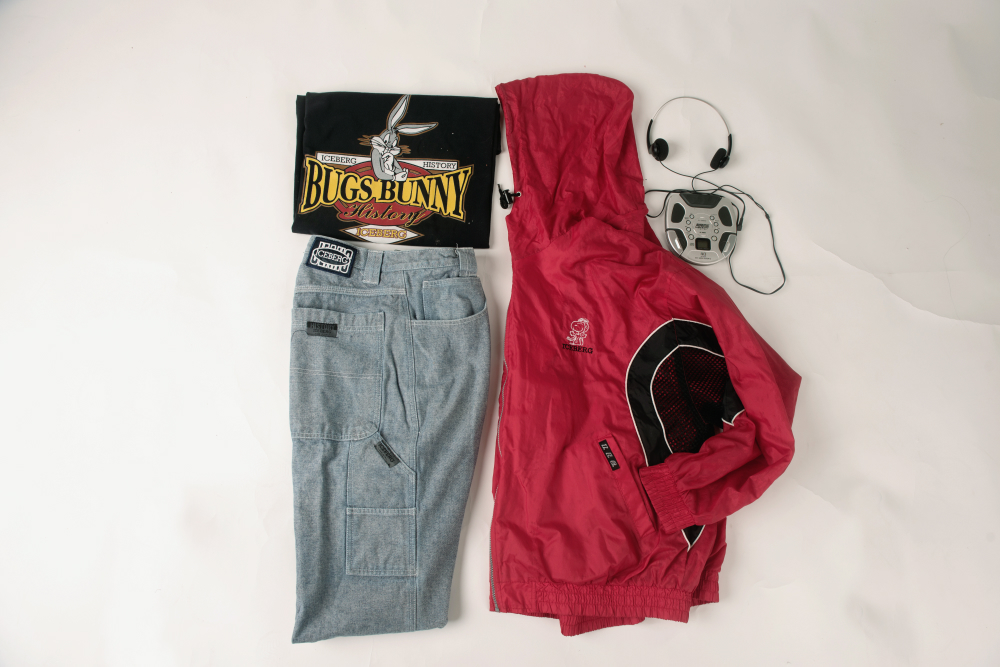 45.   As my memory serves me correct; Iceberg was the first one to the cartoon characters Lol (FUBU later followed)!  True story.  My boy Randy's brother sold boosted Iceberg gear to everybody in the hood.  One day we all met at the bar for karaoke night and we all had on the same Iceberg sweatshirt! Lol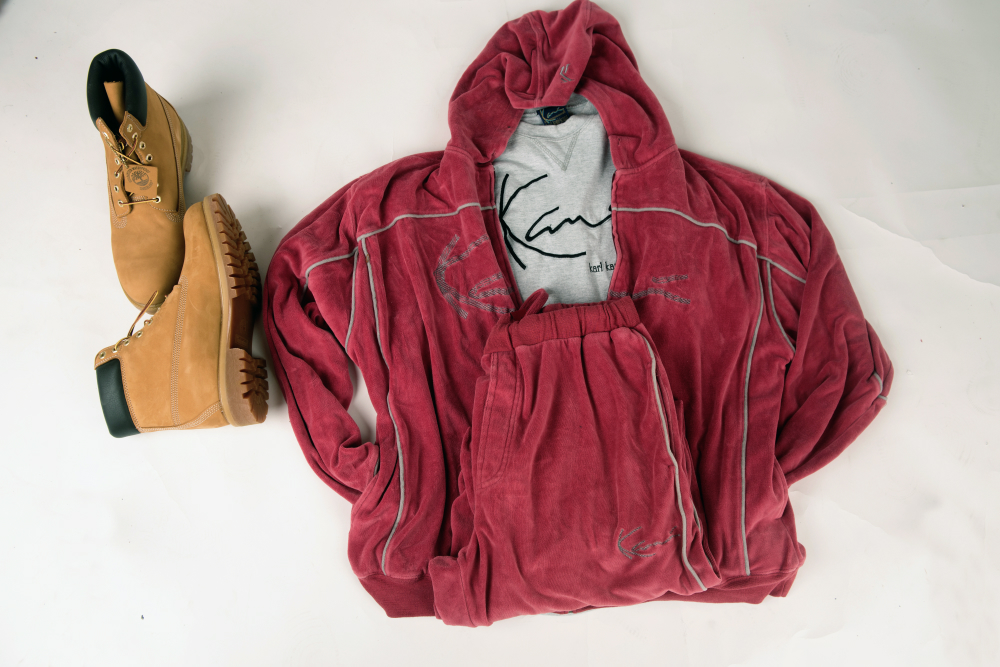 46.  Like I said; I wore Karl Kani well into the 200s.  Nothing is or will ever be as fly as velour tracksuit.  And proof that you can wear Tims with anything! Lol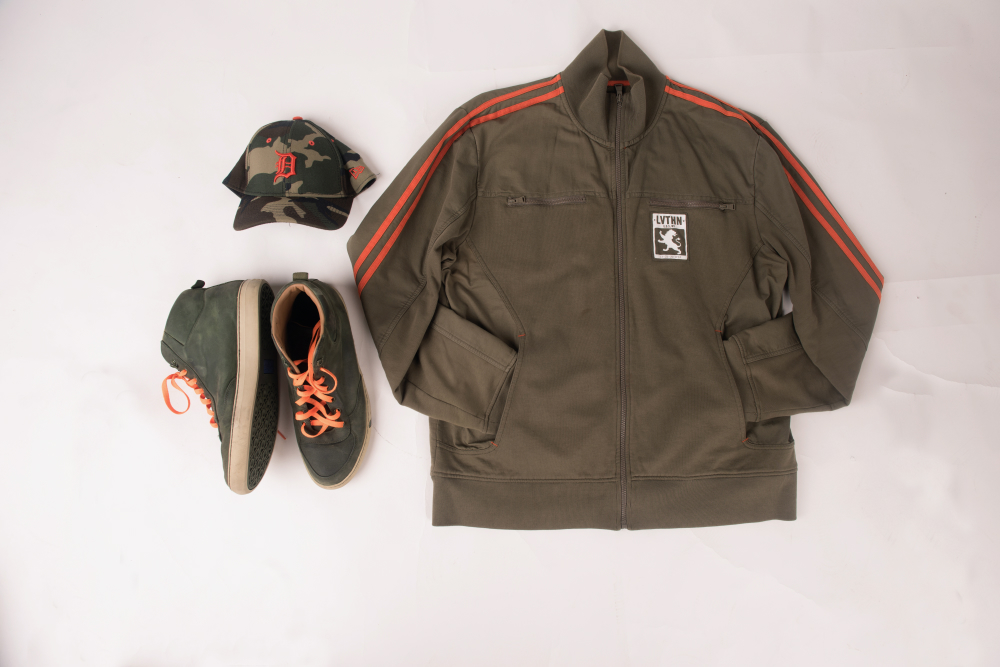 47.   The internet changed how all of us dressed.  About 5 years ago I was in the airport with my wife and I noticed this dude across from us with this this green jacket (orange and green are two of my favorite colors).  I googled the jacket; (Express), bought it from EBay for 15 bucks because I knew I had some green and orange Pro-Keds to go with it.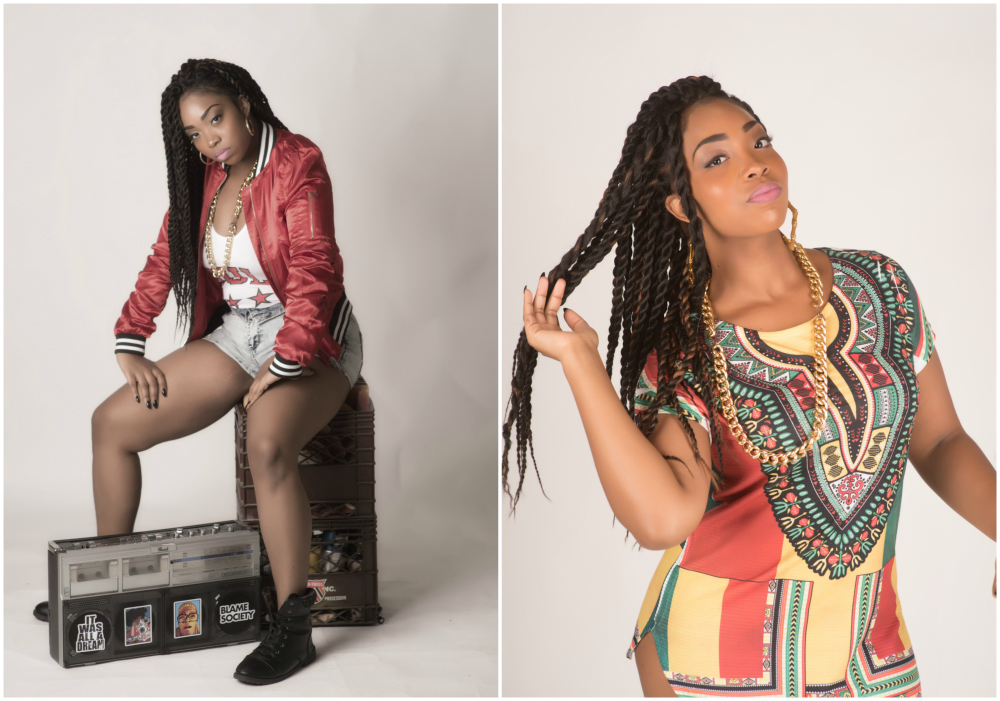 47.     90s photoshoot I did last year.  The varsity jacket, the stone washed jeans - this girl nailed it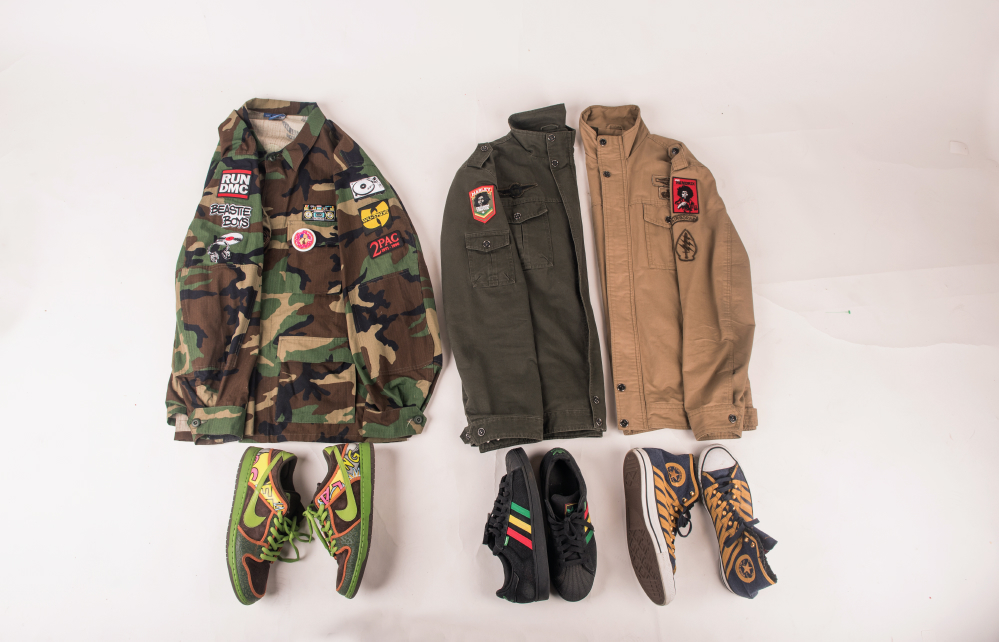 48.   Soon I started creating whatever I couldn't find in stores. I wanted a hip-hop camo jacket so I went to the army surplus store, bought one, and created it.  I wanted a Bob Marley/Jimi Hendrix military jacket; so a found generic ones, patches, and created them.