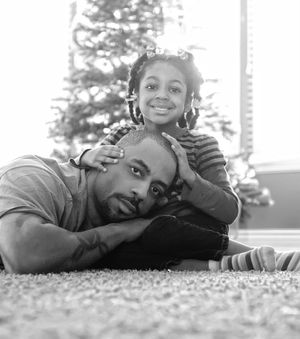 I'm far from a perfect father and I don't claim to know everything about parenthood or raising children.  But I do understand the importance of setting "examples."  I understand because my grandparents were awesome examples.  The main constant with both of them is that they always treated everyone with a lot of respect, dignity, and class.  Now that's not to say everyone deserved that respect-lol! My grand ma had to be the most "giving" person ever invented.  It seemed that during the holidays every one of her friends was worthy of a pound cake or a sweet potato pie and she must have had at least  90 God children. 
My grandfather never took anything personal as long as it wasn't meant to be personal.  He always got along with the neighbor or church member that nobody else could seem to get along with.  Because of his nature – he was often asked to take leadership positions within the various organizations he was involved in.  I observed this behavior year after year.  I even told my grand my one day that she was wayyyyyyyy too nice to people.
There were plenty more but I'll stop there………
So here I am, 36 years old, man of the house, father to my 4 children, and trying to move carefully to set the proper examples.  I make it a known fact that I work hard and that I've worked hard to build my photography business.  They are pretty used to seeing me shoot, have consultations, and basically "take care of business."  They see/know that I love their mother.  She consistently gets a lion's share of flowers, edible arrangements, and cards weather it's the holiday or not.  She gets hugged and kissed before I leave and when I come home.  Though; like other marriages we do have "our moments" – they've never seen/heard me called her a profane name or hit her in any way.  I try to make sure my children see me as a strong black man who is responsible, caring and again "hard working."
They also know/see that I hit the gym regularly and take my fitness and nutrition very seriously.  They know I make all my meals for the week and when mom orders pizza; they see dad take his slice(s) and put them in the freezer for the next cheat day-lol!
I guess basically I've always wanted my children to see me as a hard worker.  Whether it's a day job, photographer, journalist, poet, or the gym – they know dad likes to work hard.  They know dad has a strong commitment to determination and meeting his goals.   I know they may not actually comprehend allllll these things right now but hopefully when they face their own challenges and struggles as they get older – they can reflect on dad's work ethic, and maybe even get a little inspiration from it the same way I get inspired thinking about my grandparents.
There are other things I do to set example but "determined" is the one I want them to remember and see the most the same way the main thing I remember about my grandparents is how nice and giving they were to people
I'm not sure what the future holds for the next generation.  I don't know what the best business to start will be, the best careers to go into, or the best degrees to get.  But regardless, an extreme amount of self-determination and hard work will be needed to navigate through it.