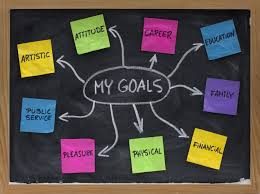 It's October!  The month of "Indian Summer," burnt orange leaves, apple cider, hay rides, pumpkins, costumes, haunted houses, and candy corn.  It's also the 10th month of the year; which means you have 3 months to complete your 2013 goals.  
Did you attain them already?  Have you even started yet?  How far are you?  Did you get frustrated and walk away?  Chalk it up as a loss?  Do you even remember what your 2013 goals were?
 If you really don't want to answer any of the above – then don't.  Who cares anyway! The most beautiful thing about goals is they aren't as time conscious as you think.  You don't have wait until next year to start working towards your goal: you can start right now!  If you've become stagnate and it's obvious you won't reach your finish line by the end of the year – that's fine; just keep progressing.  So what you told yourself you would lose 20 pounds this year.  So what the business is not up and running yet.  Who cares if there is still one more class needed for the degree?  None of this means you're a failure; it just means you have to keep going.
 Now don't get me wrong.  I'm not here to encourage procrastination or downplay deadlines.  Some people "need" the fire of a deadline up under them to keep them going.  However; others will completely throw in the towel is the goal is not attained by the projected deadline.  That's usually when I hear lines like; "Oh well, I'll try it again next year," and "I guess it wasn't meant to be." 
This blog post is not here to dog anybody – but here to build everyone back up.  If you have an ambition you're waiting to embark on next year – than start right now.  If you've given up on the goals you set in January – well pick it back up.  Don't let the parameters of "time" suffocate you.  Do let loose your confidence.  Don't overly question yourself.  Don't give up.
 Most of the goals that I've never completed didn't get finished because I was rushing to complete them.  Moving a crazy speeds as if I had only been given a year to live.  I've often had to spend a lot of time cleaning up the mistakes I've made in accomplishing my goals rather than celebrating the actual "completion" of the goal.
 So this is just a reminder to let go and live.  Enjoy the progress and don't be a prisoner of a self-imposed deadline.  All you have to do is "keep going."