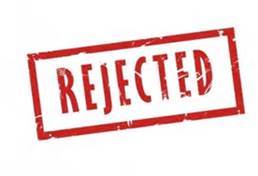 On August 15,2008; I saw the email pop up in my inbox, closed my eyes, said a little prayer, then clicked the open button and it went all downhill from there.
"Dear Kahn,
After all this time, I'm afraid that I am writing with the disappointing news that we have decided to pass on your poetry collection. Ultimately, poetry is a hard sell in the marketplace and this feels too limited in  its audience to really break out commercially. You have been more than patient with us and I'm truly sorry that I can't reward that patience at> this time. I wish you every success with the project.
Regrets and best wishes"
My first thought?   "Them jokers held onto my manuscript for 2 years and came back with that bullshit!"  lol   Because sometimes; rejection can pierce the soul.  It can feel like 20 thousand toothpicks being jammed into your gut.  Like a staple gun to the back of the neck.  I've been turned down by prospective clients and other possible ventures but nothing has ever stung like that email.
Starting in 1995; my self-identity, interest, and entrepreneurial aspirations were all "writer" driven.  I had aced every Comp/English class in college, I had self-published 3 books (sold maybe 100 copies of each out my car), traveled and competed in poetry slams, freelanced for a few local papers/magazines, taught poetry and creative writing workshops, threw essays and poetry contest for kids, put out 2 poetry CDs, spoke at colleges, and published essays and poems in various journals.  None of these were "over-the-top" accomplishments but rather a trail of progress.  Every poem, story, article, class, and lecture was a tiny footprint in my journey as a writer.  The publication on my manuscript would have served as an apex at that point.
The rug was pulled from up under me that day in August.  I put my manuscript in a folder, put down my pen, and threw myself into my other love – photography.   Now I can tell you that wound up being great for my business, and I can bullshit you and say I turned a negative into a positive because after all; 2008 and beyond I saw my photo biz double and triple.  Now that's great and all but "writing" was the rack I hung my hat and coat on.  "Writing" is something I have always felt I was born to do and it came natural to me whereas photography was more organic; it didn't come natural, and it was a much harder craft for me to learn.
It took two years for me to write another poem, look at that manuscript, and start another manuscript.  As a friend of mine said, "Kahn; before I left town you were the writer who took pictures, now it seems that most people don't even know you write!"
The point here is that I let "rejection," I let that email throw water on my fire to write.  I let that email take away a lot of my drive; and because I had another passion – it made it easier.  If I was going to pursue photography more than writing; I would have rather done it on my own terms.
I'm no different than the person that didn't get the promotion so he stops applying himself.  The kid who didn't' win a starting roster spot so his effort falls off.  The bodybuilder who loses a competition and never walks into a gym again.  The man who's girlfriend declines his proposal and he never proposes to another woman again.  The college student who changes majors after 1 bad grade.  The entrepreneur who gave up trying to start his business because he got turned down for 1 loan.
And that's the point here.  We all have been there and some of us are still there.  Some of us have let go passions because of rejection.  Yesterday's blog post was about not progressing because you are too comfortable with your situation – but his is not moving forward because you never got over the sting of refutation.   If you're going to defer your dreams; do it own your own-lol.  Don't give someone or something that much control/credit.
I remember I used to go to BoMac's Jazz lounge (now closed).  One Thursday there was an old guy there tearing the keys up!  He was a retired mail carrier and he said he hadn't touched a piano in 35 years until that night.  Said he auditioned for Motown back in the 60s, wanted to be in the rhythm section, one of the Funk Brothers.  They turned him down. He walked away from the piano cold turkey.
What could have been?  What could have been?  What could have been?
Love Your Life