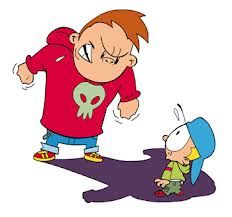 By now the bullying situation between Jonathan Martin and Richie Incognito of the Miami Dolphins has sparked an endless amount of conversations and debates. But the very first time I heard the story, I thought of a book I read when I was 22 years old. It was Nathan McCall's "Makes me want to Holler." The book was a memoir of the author's life and one of the main underlying tones of the book was about "being mentally broken/weak."
The author gave several types of examples of individuals that were all mentally broken down over time.
-There was a big strong inmate named Tooty; that the author was locked up in prison with. He was taunted, harassed over a period of weeks and months until he became somebody's boy-toy. They basically catcalled him, called him a bitch, called him a girl 'till he stopped seeing himself as a man anymore. Sad but true.
-Then the author told the story of his fellow journalists, Cassandra and Michael. Both were up and coming African-American reporters. Both faced racially motivated double standards from their bosses that resulted in both questioned their talent level at their careers. Both individuals ended up quitting.
More times than not – just trying to make it though life itself will make you question many things.
Am I a good enough worker?
Am I a good enough husband?
Am I a good enough father?
Am I trying hard enough?
Maybe I'm just not good enough.
Now if you add a coworker, a boss, a teammate, or a spouse constantly telling you "you're not good enough" - it can make overcoming those mental challenges a lot more harder. If you have a history of depression, anxiety etc.. than this will also make overcoming those mental challenges harder.
Like the saying goes; "If you tell someone they ain't shit enough times: they just might start to believe you."
Luckily for me I learned very early in life that the only thing that mattered to me was "passion." I knew at certain jobs I wasn't doing good because I didn't give a damn and it didn't matter how much my boss or manger dogged me. I have also had limited success in various things that I've had a passion for but never hung my head about "not being that good" because I promised myself that if i'm doing what I want to do – there is no way and no one that I will let ruin it for me.
I have just as my doubts in my personal life as anyone else. I see more faults in the mirror than assets. I have had just as many naysayers and haters as the next man.
I also understand that its okay to bend. Its tough not to break. And if you do break-it doesn't mean you have to stay that way.
Now I could be wrong at how I think this relates to Martin/Incognito situation. But I honestly feel that Martin was breaking. He held up the facade for as long as he could but in end. He was Tooty, he was Cassandra, he was Michael.
I'm not judging him and neither should you.