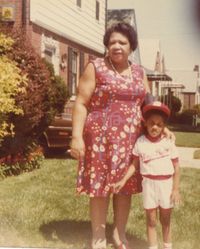 When I chose to write the poems Gardenias (for my grandfather) and Impatiens (for my grandmother); there were many intentional thought processes at work.  I grew up adoring the way my grandmother loved flowers.   I mean this woman LOVED flowers!  She nursed them daily and effortlessly.  She was capable of growing anything she desired.  Trips to Eastern Market and Franks Nursery were routine and flowers were watered in the morning and night.
     In those poems; the Impatiens and Gardenias represent life.  I treat my stories and poems about my grandparents the same way she treated her flowers.  I want them to keep growing and I want them to keep living.  I'm big in to "symbols."  I believe it's been therapeutic and creatively enhancing to remember them as wise leafs of nature.



Impatiens
For Coteal Smith

The last Saturday in April
grand ma beat the sun to the flower bed,
water-hose in one hand, trowel in the other.
She loosened up the winter-hardened dirt,
making seventy-two teacup sized holes filled
slightly with water.  Her pink palms -
moist and chilled from the morning due 
held each flower the same way a child holds 
a baby chicken after it's egg has hatched.
Come here baby, help grand ma plant the Impatiens.
My five-year old eyes widened to the size of halogen bulbs, 
as grand ma placed one in my hand.
Be careful and do what I do baby.
the soil around the neck just like she did Vicks 
when my sinuses were stopped up.
I did the same.    She smiled.  
Four weeks to that day,
the seasoned bed was bustling with pinks, 
purples, reds and whites.
Grand ma pulled me close to her arthritic knees.
Soil is like the hands of God.  You put something in it,
and it will grow. 
When the melanoma began to ascend 
taller than her Impatiens could have ever grown,
I imagined them a bouquet of pinks, purples, reds 
and whites spreading beautifully over grandma's 
defenseless body.  I remember her casket being 
lowered into the cooled soil, and wanting to help
the two men with shovels fill it up.