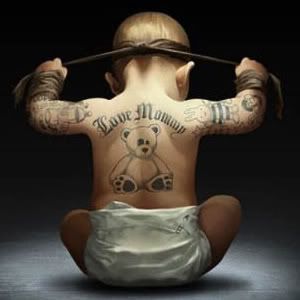 It's hard to believe that in 1986 my grandmother found my RUN DMC Raising Hell tape, threw it away, and grounded me.  She was a Christian and anything titled
Raising Hell
haaad to be bad.  I remember several months later she walked in on me listening to EPMD and said, "I don't know what they're saying, but it all sounds bad."  I was 10 years old then.  A time when hip-hop songs only came on the radio weekends after 8pm, a time when I would have a blank cassette paused in my Sanyo boom-box so I could record the songs off the radio, and a time when RUND DMC was considered "hardcore."  Wow how times have changed!
   Let's fast-forward 25 years and now I'm the parent. 2 daughters who listen to pop and 15 year-old & 11 year-old sons who love hip-hop. The 15 year-old is like me: his tastes are diverse.  He likes Kendrick Lamar, Drake, ASAP Rocky, takes Biggie over 'Pac, embraces N.W.A., not feeling Lil Wayne anymore, appreciates Em, Dre, but hates Lil John. He can talk beats and rhymes for hours.  We allow him to listen to music with profanity & questionable lyrics.  He's smart; he knows the difference between real & fake, he understands hardcore, posturing, and cowardness.  There are certain artists he listens to in the a.m. before school and other artists that are reserved for pregame hype music.
   I trust him and I can't be a hypocrite. He's knows I still listen to Mac10 in the weight room and Coltrane in the library.  He hears The Roots in the car, but Volume 10 during cardio.  We both "understand."
   This is not the case with my 11-year old.  He's much more impressionable.  He likes what his dad and his brother likes.  So I try and keep FM radio off in the car and his brother's music turned low.  He's still learning what he should and shouldn't say, that some artists are strictly gansta' in studio only, and there is no need to jump on the bandwagon of every piece of slang you hear in a rap song. I know he's still going to hear things because hip-hop songs (good and bad) are the background of several popular video games.  We talk about it but he's an 11 year-old being an 11 year-old. 
   I'm not my grandmother and this isn't 1986.  The more maturity my children show towards how they can interpret the complexities of life – the more room/freedom I give them to make their own choices.  Music is a thousand times more accessible now than it ever was and more "understating" will go further than constant "policing."